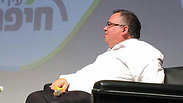 David Bitan: 'If Netanyahu gets fed up, we'll stop it all and go to elections'
Coalition Chairperson David Bitan (Likud) warns that if the Likud and PM Netanyahu are continued to be provoked by Coalition members, they may seek early elections; Former PM Ehud Barak weighs in on Israel's attack in Syria on Friday and Russia summoning the Israeli ambassador following it, calling President Putin 'the most Israel-friendly person to have ever sat in the Kremlin.'
Following the confrontation between Prime Minister Benjamin Netanyahu and Kulanu Leader Moshe Kahlon over the erection of the Israel Public Broadcasting Corporation (IPBC), and having Bayit Yehudi Leader Naftali Bennett accuse Netanyahu of "abandoning" Religious Zionism, Coalition Chairperson David Bitan (Likud) spoke out during a cultural event on Saturday, saying that the present situation may very well lead to early elections.

"Bayit Yehudi and Kulanu are saying that the government depends on them—well, enough with that," said Bitan. "If the Likud and prime minister well get fed up, we'll dismantle everything and head for elections.



"We won't have opinions and decisions forced upon us. Not by Kulanu and not by Bayit Yehudi. If these threats and remarks will continue, there's a good chance we'll be heading toward elections."

Former prime minister Ehud Barak also voiced his opinions on current events Saturday, though at a separate cultural event. Referring to an IDF operation on Friday, where an IDF Arrow missile intercepted a Syrian anti-aircraft missile targeting IAF jets returning from an offensive mission in Syria, Barak said, "this is technically the first time the Syrians fired and then we fired back an Arrow missile. It amounts to a unique technical accomplishment that puts us at the global forefront of missile defense capabilities."

However, Barak added that "perhaps further consideration would have concluded that it we should not fire the Arrow. The rocket debris that fell in Jordan forced Israel to admit to carrying out this action—something that it has never done before. I suppose that certain lessons will be learned from this."

Regarding the Israeli ambassador to Russia being summoned over the Israeli airstrike in Syria, Barak remarked that "the Russians are the landlords in Syria. They have allowed (Syrian President Bashar al—ed) Assad to keep his head above water. The Russians understand that Israel's action is meant to prevent weapons delivery.

"They probably expected Israel to have used its long-range weapons and not (operate—ed) above Syrian soil," continued Barak. "We need to be ready for the Russians having something to say about this. President Putin is the most Israel-friendly person to have ever sat in the Kremlin."

Finally, speaking of the possibility of him returning to politics, Barak said, "I don't burn with desire, but with concern. Even if the thought has crossed my mind, I don't involve myself with it."