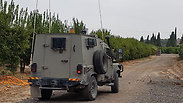 IDF forces looking for rocket landing site
Photo: Barel Efraim
The IDF's Southern Command called up its reserve forces for a surprise exercise on Sunday amid a recent increase in rockets fired from the Gaza Strip at southern Israel.

As part of the exercise, reserve forces will drill a variety of operational scenarios, with an emphasis put on threats on the southern front.

The IDF said the exercise was planned in advance, and that an increased movement of military vehicles and IDF troops will be felt in southern and central Israel.

A Code Red rocket alert siren was sounded at the Eshkol Regional Council shortly before 12pm on Sunday, but it turned out to be a false alarm.

On Saturday, a rocket launched from Gaza landed in the Hof Ashkelon Regional Council. In retaliation for the rocket on Saturday, IDF tanks and IAF fighter jets attacked two Hamas targets in the northern Gaza Strip.

It was the fifth rocket that fell inside Israel since early February, and the 8th security incident on the border area within that time.