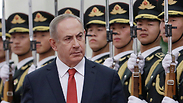 Netanyahu in China
Photo: Reuters
Netanyahu in China to boost trade ties
With Israeli economy 'pivoting towards Asia in a very clear and purposeful way,' PM Netanyahu visits regional superpower China in an effort to combine Israel's knack for hi-tech innovation with China's abilities in mass marketing and commercialization, to both countries' benefit.
Prime Minister Benjamin Netanyahu was welcomed on Monday in China. The eastern superpower is looking to boost its technological cooperation with Israel as well as to step up its tentative engagement with the Middle East at large.
Meeting in Beijing's Great Hall of the People, Chinese Premier Li Keqiang praised Israel's advances, saying it was a world leader when it came to certain technologies.
"The Chinese people and the Jewish people are both great peoples of the world," Li said.
Netanyahu said there was much to talk about in tech cooperation.
"At the same time there is a great deal of convulsion in the world, including in our part of the world," Netanyahu said, in comments made in front of reporters.
"I would like to have the opportunity to exchange views with you and to see how we can cooperate together for the advancement of security, peace and stability, and prosperity," he added.
Deng Li, director general of the Chinese Foreign Ministry's West Asian and North African Affairs Department, said at a briefing that both countries had agreed to step up free trade talks.
"Personally I am very confident and optimistic about the future of this free trade agreement," Deng said.
He added that Premier Li had said that China does not have its own interests on the Palestinian issue and would like to see the issue properly solved at an early date in line with United Nations resolutions and the international consensus.
Chinese envoys occasionally visit Israel and the Palestinian Territories, but Chinese efforts to mediate or play a role in that long-standing dispute have never amounted to much.
China also has traditionally had a good relationship with the Palestinians.
The Middle East, however, is fraught with risk for China, a country that has little experience navigating the religious and political tensions that frequently rack the region.
Behind closed doors, China and Israel have close security ties too, rarely discussed in public.
Boosting trade and economic ties
China's economy may be 35 times larger than Israel's, but Netanyahu is hoping to use that to Israel's advantage during a three-day visit to Beijing, as he looks to reorient Israel's economy towards Asia over Europe and the United States.

A week after US chip giant Intel agreed to buy Israeli technology firm Mobileye for $15.3 billion, Netanyahu wants to enlarge Israel's hi-tech presence in China while encouraging further Chinese investment in Israel, where infrastructure and construction projects are growing apace.

More than 100 technology executives have joined Netanyahu on the visit, with meetings planned with Chinese business leaders.

Bilateral trade has been hovering at around $8 billion for the last few years, but over the past decade, Israel's exports to China have tripled to $3.3 billion in 2016, with technology—from cybersecurity to agri-tech—leading the way.

According to the Economy Ministry, half the investments in Israeli funds in 2015 involved at least one Chinese investor, and 40 percent of funds raised by Israeli venture capital firms came from Chinese backers.

"Israel is pivoting towards Asia in a very clear and purposeful way," Netanyahu said last month in Singapore, which he visited along with Australia. Indian Prime Minister Narendra Modi will visit Israel in the summer, underpinning the Asia trend.

On a political level, Asia tends to put far fewer demands on Israel than the European Union does. And while the EU remains Israel's largest trading partner, Asia is steadily closing the gap.

Matan Vilnai, Israel's former ambassador to Beijing, has stated that China's interests in Israel are almost purely economic. Chinese leadership seeks to learn from Israel's culture of hi-tech innovation and doesn't push beyond that. "It's very simple: technology, technology, technology," he said.

Chinese firms are driving major infrastructure projects in Israel, including Tel Aviv's metro system and new Mediterranean ports in Haifa and Ashdod. A deal for 6,000 Chinese construction workers to come to Israel was signed earlier this year, with the possibility of extending it to 20,000.

Ilan Maor, Israel's former consul-general in Shanghai and the managing partner of Sheng BDO, a business advisory firm, said he thinks China's leadership is keen to limit discussions with the Israeli delegation to economics, even if Beijing has become more outspoken on Middle East issues.

"The place (Netanyahu) can make a significant contribution is opening the door to more trade, moving forward to free trade, and sending a clear message that we want Chinese investment," he said. The countries are, in fact, negotiating a free-trade agreement, although it remains unclear how far advanced those alks are.

From Netanyahu's point of view, while China and Israel may be vastly different in terms of population, physical size and resources, there is a strong fit: whereas Israel seeks to innovate, China concentrates on mass marketing and commercialization.

"Given the basic infrastructure of initial and secondary development—airports, sewage lines, water—once you've done that, the way to go up and up and up is to constantly improve your products and services and utilities with technology," Netanyahu told Chinese business leaders in Bejing. "We are your perfect junior partner for that effort."