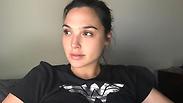 Get ready to flood social media, pop open the champagne bottles, and contact all of Gal Gadot's glamorous Hollywood friends, as Gadot gave birth to a second daughter Sunday night.

Gadot and her husband of 9 years, businessman Yaron Versano, are also parents to five-year-old Alma.


Gadot was quick to share the thrilling news with her fans and social media followers by posting a sweet extended family photo to her Instagram account. In the caption, she revealed the baby's name to be Maya.
Gadot and Versano married in 2008 and since then, they have been living between Israel and Los Angeles, after the model-turned-actress swept over Hollywood.
Some of her roles include major motion pictures like the Fast & Furious franchise, Keeping Up with the Joneses, and more recently, the title role of Wonder Woman. She has already filmed two movies as the iconic character and became a fan-favorite across American talk-shows.
Gadot went public with her pregnancy announcement on her Instagram account, which imbues the news with a WONDERful sense of closure.
(Translated and edited by N. Elias)