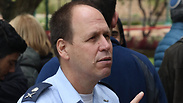 Maj.Gen. Topolanski
Photo: Shaul Golan
Major-general whose computer was stolen will not be prosecuted
After former IDF Manpower Directorate Maj.-Gen. Hagai Topolanski had his pesonal computer stolen, due in part to his not protecting it according to army regulations, the IDF Criminal Investigation Division decides not to indict him, settling instead for a reprimand.
Former IDF Manpower Directorate Maj.-Gen. Hagai Topolanski will not be charged for not properly guarding his computer, which was stolen last December, as the IDF's Criminal Investigation Division (CID) has decided to let Topolanski off with a reprimand. In addition to not storing it properly, the investigation found that he had failed to attain the proper approval before taking the computer home.

Last month, police arrested six suspects from the Palestinian Territories, east Jerusalem and the Bedouin community, in relation to a string of burglaries in homes located in the Center and South of Israel, among them Topolanski's. The maj. gen. announced his resignation following his computer being stolen, and the six suspects have since been indicted.

The IDF issued a statement following the computer theft that Topolanski is a fine, outstanding officer, who did not hesitate to step down and take responsibility and immediately resign. IDF Chief of Staff Gadi Eisenkot reportedly accepted his resignation with a heavy heart, with a deep appreciation to the years Topolanski gave serving his country's security.