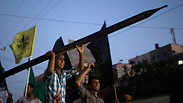 Rockets during Protective Edge
Photo: Reuters
Hamas requests advanced map software from the Turks: 'Google is not accurate enough for rockets'
The arrest of Muhammad Murtaja exposes further details into the elaborate scheme set in motion by the head of the Turkish humanitarian aid agency vis-à-vis the Hamas military wing; from advanced mapping software, to suitcases full of cash, culminating in the Turkish government's blind eye.
The arrest of Muhammad Murtaja, coordinator of the Gaza branch of the Turkish Cooperation and Coordination Agency, revealed the extent of cooperation and assistance to Hamas terrorists.
Among other things, it turned out that in the past two years, Hamas asked the Turkish IHH organization for advanced mapping programs to improve rocket attacks on the Israeli home front, and especially on strategic sites.
Hamas, according to the investigation, used Google maps to fire more than 4,000 rockets to hit Israeli targets, but in most cases, the rockets were either intercepted or missed their targets altogether.
Murtaja said that he was supposed to fly to Turkey to receive a disk-on-key intended for Hamas, which consisted of improved and elaborately detailed maps of various sites in Israel, which were based on Turkish technological data acquired following Turkey's involvement in the satellite launch project.
Murtaja said in his interrogation that he witnessed the transfer of suitcases laden with cash from the IHH organization in Turkey (which was responsible for the Gaza flotilla) to senior Hamas officials, including senior Hamas operative Raed Salah, Ismail Radwan and Ismail Haniyeh.
This case is unusual compared to previous similar affairs, since this time, operative was groomed in the military wing, trained with the regiments of the Shati refugee camp and operated alongside the battalion commanders. As an engineer, he became an expert on TNT and the manufacturing of advanced explosives and explosive devices.
In 2012, he was appointed head of the Turkish government's humanitarian aid organization in Gaza (TIKA).
The indictment filed last Thursday against Murtaja lists multiple offenses, among them misusing of resources and funds intended for humanitarian projects in the Gaza Strip by diverting them to Hamas's military wing.
Moreover, it was claimed that the defendant took part in the digging of a tunnel after Operation Protective Edge that would potentially be used by Hamas terrorists in the event of a ground invasion of the Gaza Strip.
(Translated and edited by N. Elias)