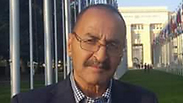 Muhammad Aliyan in Geneva
Jerusalem terrorist's father speaks at the UN: 'Israel is an executioner'
Mohammed Aliyan, whose son murdered three Israelis in a terror attack at east Talpiot in 2015, heads a delegation of families of terrorists and prisoners, decrying Israel's treatment at the UN Human Rights Council: 'They demolish our homes, arrest us and expel our families.'
Mohammed Aliyan, the father of terrorist Baha Aliyan, who murdered three Israelis in the east Talpiot neighborhood in Jerusalem in 2015, took part in a UN Human Rights Council meeting on Monday as part of a Palestinian delegation of families of dead terrorists and security prisoners.
In the assembly, Aliyan spoke of the "sufferance" his family has undergone since his son's terrorist attack, due to the investigations and the sanctions imposed upon them by Israel. He also claimed Israel had executed his son.
Since his the terrorist attack, Aliyan Sr. has launched a campaign to glorify his son, and in the process he has become a symbol for Palestinians in general and in east Jerusalem in particular.
Among other things, he headed a group of terrorist families who petitioned the High Court of Justice demanding the return of the terrorists' bodies, and last year he lectured in dozens of Palestinian forums, including educational institutions and universities, praising his son's actions.
At a conference in Geneva, Aliyan said that in addition to holding his son's body for 10 months, Israel also demolished his home and revoked his wife's right to live in Israel according to the Family Reunification Law.
"I, the lawyer Muhammad Aliyan, am a defender of human rights, and representative of the Palestinian families who Israel is harming through collective punishment," he said at the assembly.
"Israel has filled the lives of these families with unending sufferance. The collective punishment begins with their withholding of the victim's body and placing it in a freezer for many months. Thereafter, we are held in dark detention cells for no reason or with no charges (referring to the questioning of a terrorist's family members—ed). And not long after, they demolish our homes and expel our family members who did nothing other than being close to a shaheed or a prisoner.
2015 terrorist attack on bus number 78 (צילום: סטילס רויטרס)
"By demolishing our homes, Israel is destroying our memories and dreams. We also suffer from deprivation of work, education and medical care. We have given up hope of attempting to confront the Israeli legal system, which does not provide us with protection against this oppression, which is why we appeal to you to conduct an investigation and issue a special report that would expose what Israel is doing with regard to its collective punishments in Jerusalem."
On October 13, 2015, Baha Aliyan and his partner, Bilal Abu Ghanem, boarded bus number 78 in the Talpiot neighborhood in Jerusalem and opened fire at the passengers, stabbing several of them along the way. Three Israelis were killed in the attack: Haviv Haim,78, Alon Govberg, 51, and Richard Lakin, 76, and seven others were injured.
Maor Zemach, chairman of Lech Yerushalayim, which works for the realization of sovereignty in Jerusalem, said in response: "The father continues to slander the State of Israel from every possible stage. The height of hypocrisy and audacity is in his ridiculously delusional appearance before the human rights council, an organization that broadcasts hypocrisy. I call on the interior minister to immediately revoke the residency documents of the Aliyan family."
(Translated and edited by N. Elias)