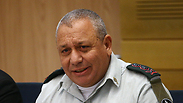 IDF Chief of Staff Gadi Eisenkot
Photo: Ohad Zwigenberg
IDF chief: Tunnel threat is serious, but not existential or strategic
Speaking in front of the Knesset's State Control Committee, Eisenkot says while the threat from Gaza is being taken very seriously by the IDF, 'I don't think it's correct to define it as an existential or strategic threat, all the while terrifying ourselves and the residents.'
IDF Chief of Staff Gadi Eisenkot determined Wednesday that while the Gaza tunnel threat is a serious threat, it is nevertheless not an existential or a strategic threat.

Speaking in front of the Knesset's State Control Committee, Lt. Gen. Eisenkot explained that "The underground threat is very serious, and this is how we treat it. But I don't think it's correct to define it as an existential or strategic threat, all the while terrifying ourselves and the residents (near the border fence)."

He said that while he was a commander in the West Bank "suicide bombers were a threat that caused a lot of casualties, but we succeeded in figuring out the pattern and thwarting the threat for years. I say the same thing about this threat as well—it's a very serious threat, but definitely not existential."

The State Control Committee was meeting to discuss State Comptroller Yosef Shapira's report about the failings of Operation Protective Edge in 2014.

Eisenkot, who was the deputy IDF chief during the war in Gaza, told the committee that he "sees great importance in this report, which helps the IDF learn and improve."

The IDF chief explained that Operation Protective Edge was the first time in its history that the Israeli military encountered tunnels so deep underground and so extensive. "We were dealing with over 30 offensive tunnels, about a third of which infiltrated Israeli territory. As a result of this capability, Hamas managed to kill 13 soldiers and operate in our territory coming from underground," Eisenkot said.

Eisenkot noted that "since Protective Edge, we've diverted great resources (to dealing with the tunnel threat), we put the mission of the underground threat on high priority in the IDF... in 2016, the defense establishment spent NIS 1.2 billion to work on a better response to the threat."

In addition to that, Israel has invested NIS 3 billion in building an obstacle on the Gaza border, which will serve as an underground cement wall that would make it harder on tunnel diggers to get across the border.

These funds, Eisenkot said, are invested in "an underground obstacle, an over-ground obstacle, a radar system, an intelligence collection system," adding that "none of this is part of a future plan; these are plans ongoing today on the ground to provide a better response to the threat."

To further emphasize how seriously the IDF is taking the threat, the IDF chief spoke about a surprise exercise for two divisions, which was conducted several months ago in the Gaza border area.

Speaking about the IDF's improved capabilities since the operation, Eisenkot said that "the State of Israel is currently at the forefront of technological advancements in the world vis-à-vis the underground challenges. Following talks with world powers, I can say that, to my knowledge, there aren't more advanced capabilities than those of the IDF—and I say this with modesty, while knowing what other countries have."