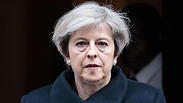 British Prime Minister Theresa May
Photo: gettyimages
Islamic State was responsible for a deadly attack outside Britain's parliament which left four people dead, the group's Amaq news agency said on Thursday.

"The perpetrator of the attacks yesterday in front of the British parliament in London is an Islamic State soldier and he carried out the operation in response to calls to target citizens of the coalition," the Amaq statement said.

Earlier, British Prime Minister Theresa May confirmed the attacker was born in Britain and known to the intelligence services, but did not disclose his identity.

"What I can confirm is that the man was British-born and that some years ago he was once investigated by MI5 in relation to concerns about violent extremism," she told lawmakers.

"He was a peripheral figure," she added. "The case is historic, he was not part of the current intelligence picture."

She said there had been no prior intelligence of his intent nor of the plot.

"When operational considerations allow, he will be publicly identified," she added.

In parliament, May insisted that terrorism would not prevail as she rallied the country to carry on with its everyday business.

"At this time it is so important that we show that it is our values that will prevail, that the terrorists will not win, that we will go about our lives showing that unity of purpose and the values that we share as one nation going forward and ensuring that the terrorists will be defeated," she said.

Though streets around Parliament are cordoned off, the vast majority of London is open and bustling as usual. Parliament resumed sitting Thursday, less than 24 hours after the attack.

Police have arrested eight people in the investigation into the lone attacker who killed three people including a policeman and injured 40 before being shot dead as he tried to enter parliament.

Andrew Parker, director general of the MI5 domestic intelligence service, earlier said his agency's operational response had been fully mobilised in support of the police.

"We stand shoulder-to-shoulder with our police colleagues, grieving at their loss while also applauding the professional excellence of their response," he said in a statement.

The Associated Press contributed to this report.