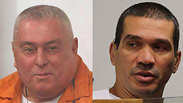 Rosenstein and Abergil
Photo: Motti Kimchi
The Israeli Omerta: Crime boss refuses to testify against rival
In a dramatic twist of events, incarcerated crime boss Ze'ev Rosenstein refuses to testify against his rival Yitzhak Abergil, who apparently tried to have him killed multiple times; Abergil is on trial for murder and international drug trafficking.
Two rival heads of Israel's most powerful crime families were brought face-to-face with one another at the Tel Aviv District Court on Sunday morning in what was supposed to be witness testimony.

Ze'ev Rosenstein, currently serving a 12-year prison sentence for ecstasy distribution, was set to testify for the prosecution against Yitzhak Abergil, a man whose organization is alleged to have tried to kill Rosenstein multiple times.

Ze'ev Rosenstein arrives in court (צילום: בראל אפרים)

Amidst heavy security, both men were brought into the court room and Rosenstein took the stand only to refuse to answer the prosecution's questions.

"Everything I had to say, I said to the police. I don't remember. I have nothing to add even if it harms my chances of parole," said Rosenstein.

In light of Rosenstein's refusal to answer questions, the prosecution and judge declared him a hostile witness, calling into question his credibility in previous statements to police, which could possibly affect his current sentence.

When asked whether or not he was afraid to testify, Rosenstein said, "I'm not afraid of anyone. Only God."

On his relationship with Abergil, Rosenstein said the two were friendly.

According to the indictment against Abergil, in 2002, Abergil believed that Rosenstein, together with the Ohana and Abutbul crime families, conspired to have his brother Ya'akov killed in an underworld power struggle.

As a result, according to the indictment, Abergil allegedly had Felix Abutbul, David Bitton and Hananya Ohana killed.