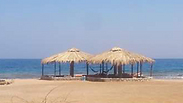 The beach in the Sinai Peninsula
Photo: Yusuf Magad
Israel's Counter-Terrorism Bureau on Monday issued a travel warning for Middle Eastern countries bordering ISIS conflict zones, urging its citizens not to travel to Turkey, Jordan and Egypt.

In an advisory was issued ahead of the Passover holiday, the Counter-Terrorism Bureau warned against possible terror attacks and attempts to kidnap Israeli citizens in these countries.

The bureau stated there were terror threats in some Western countries as well, particularly in Russia, France, Belgium and Germany, as well as India.

Israelis are therefore advised to be vigilant when they are in crowded places, such as tourist spots, sports stadiums, cultural sites, shopping centers, hotels, airports, public transportation terminals, houses of prayer and other large events.

"The more the Islamic State (ISIS) is backed into a corner, the more it would try to execute attacks across the world on every possible front: against Christians, crusaders and Jews," said Eitan Ben-Dror, the head of the Counter-Terrorism Bureau. "Israel is not at the center of the threats, but Israelis are required to be vigilant. There are no specific warnings, but we definitely call on Israelis to be careful, remain alert and avoid large crowds."

The travel warning for Sinai is at the highest level, a very high concrete threat, and the Counter-Terrorism Bureau advised Israelis to avoid traveling to Sinai altogether, urging those already there to leave immediately.

Ben-Dror said that in light of the increased ISIS activity in Sinai in recent months, including against Israel, its calls for the murder and abduction of Israelis, and its vow to avenge an attack allegedly carried out by Israeli drones in Sinai, there is an immediate, grave threat to tourists in Sinai, including Israelis.

Israelis cross the border to the Sinai Peninsula to visit resorts and beaches on the Sinai's Red Sea coast every year despite terror alerts. During the High Holiday Days in the fall of 2016, some 17,000-20,000 Israelis crossed the border into Egypt, half of them Israeli Arabs.

"The terror organizations in the Sinai Peninsula have no red lines, and Israelis entering Sinai during the holiday would be irresponsible," Ben-Dror warned.

In an event of a terror incident in Sinai during the holidays, Ben-Dror said Israel might close the Taba Border Crossing for several hours or several days, but that it has no plan to do so in advance.

The travel warning for Turkey is set to the second highest level, a high concrete threat, with the Counter-Terrorism Bureau advising Israelis who are already in the country to leave immediately.

The travel warnings for Jordan and other parts of Egypt were set to the third level, basic concrete threat, and Israelis were advised to avoid visiting them.

Morocco received the lowest level of travel warning, an ongoing potential threat, and Israelis were advised to postpone non-urgent trips.