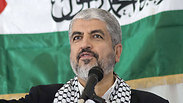 Following the assassination of Hamas commander Mazan Fukha, leader Khaled Mashal threatened on Monday that his organization was in "an open war against the criminal enemy."
"The enemy has uprooted a hero from our heroes in Gaza," Mashal said during a memorial ceremony for Fukha in a speech broadcast to Al-Qubaisa Square in Gaza City from Qatar, where he resides.
Mazan Fukha's funeral in Gaza
"It settled the score with one of our freed prisoners. The conflict is still ongoing and we, the leaders of the organization, accept the challenge. If the enemy changes the equation, we accept it and bear the responsibility to protect our sons and daughters. We adhere to the struggle to free our prisoners, to liberate Jerusalem and Al-Aqsa. Our willpower is stronger than their weapons, and in the end, we will triumph."
"Fukha was a resistance man even before prison; he went through prison and ended his career as a martyr," Mashal continued. "I tell my brothers from the Hamas and from the military wing, and to all the Palestinian people, that we must continue to live in this way in order to fight the occupation. The struggle is our natural state. The Hamas leadership has responsibility and knows what to do. It will continue on its way and continue to bear responsibility."
In conclusion, the Hamas leader said that there was no difference between the West Bank and Gaza. "We are all one people. Gaza and is strong and welcomes all of the heroic liberated prisoners. We are committed to our people and our prisoners," he declared.