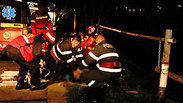 Scene of the accident in Romania
Two Israelis were killed and three others were injured early Tuesday morning in a traffic accident at the entrance to Bucharest, the capital city of Romania.
The Foreign Ministry confirmed the death of Muhammad al-Jabrin from Lod and Dhamshah Ahmad from Kafr Qana. Both were students. The Ministry, via the Israeli Embassy in Bucharest, and the Department for Israelis Abroad, will be assisting in the return of the body to Israel as well as the other hospitalized Israelis.
The car crashed into another car coming from the opposite direction. Romanian media provided conflicting reports on the condition of the injured, but Israel's Foreign Ministry said they knew of lightly injured being treated in the hospital.
One of the country's media outlets reported that three of the injured were resuscitated, followed by improvement in their condition.
Romanian police reported that the driver of the car in which the Israelis were traveling did not give right of way to the opposite vehicle and crashed into it.
As a result of the collision, the Israeli car careened into Lake Dâmbovița. Two of the injured had reportedly dragged themselves out of the water on their own and were rushed to hospitals in Bucharest along with their friends.
(Translated and edited by N. Elias)