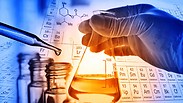 Clinical trials offer hope for the future
Photo: Shutterstock
Stem-cell therapy: The medicine of the future
Animal testing has shown that stem cells are capable of repairing damaged heart tissue. When it comes to lungs, they have proved to be efficient in humans and improve the chances of a successful transplant. A visit to research labs in Canada reveals a whole new world of medical innovation waiting just around the corner.
In one of the famous scenes of American animated sitcom Family Guy, which was aired on January 2008, the main character, Peter Griffin, is seen entering a stem cell research lab with half his body paralyzed, as a result of a stroke, and walking out completely healthy.

"How long was I in there?" he asks the guard, who replies, "About five minutes." In response, Griffin stretches out his arms and cries out, "Why are we not funding this?"

Today, almost 10 years later, this scene appears archaic not just in terms of the public debate over stem cell medicine, which negatively affected its funding at first, but also because of the great amounts of money that are being invested in this industry.

Stem cells are undifferentiated biological cells that have the potential of differentiating into specialized cells, which means they can replace any defective cell with a healthy one.

The traditional opposition to stem cell research has to do primarily with religious faith, but the idea behind it is in fact broader: An attempt to create stricter barriers to man's intervention in nature. That is also the reason why this opposition has softened over the years, and stem cell research is now common in many parts of the world, including Israel. While humanity is still concerned by the possibility of a group of researchers playing God in the lab, it is increasingly envisioning it.

Imagination plays an important role in dealing with stem cells. Theoretically, cells that, in a lab, can differentiate into any specialized cell present countless options of playing with the human body—from treating any physical medical failure, through preparing a bank of human spare parts, to producing a new race of perfect human beings, completely flawless and immune. That is only in theory, however, at least at this stage. In practice, the possibilities inherent in stem cells are still imaginary, and using them for actual treatment is still very limited.

When will that change? It's hard to know. In mid-2016, it was reported that researchers from Stanford University in California partially assisted in the recovery of paralyzed stroke patients—just like Peter Griffin in 2008—by injecting stem cells directly into their brains. There is still no guarantee, however, that this problem is about to get a permanent solution. Researchers specializing in stem cells are still leaning over their microscopes in an attempt to figure out the secret of using these cells and bringing futuristic medicine closer to any health maintenance organization across the globe.

Which brings us to Canada.
Life on MaRS
Toronto's skyline is dotted with multi-story buildings, each with a series of elevators that fly visitors within second from the ground floor to the upper floors. The 35th floor of Eaton Centre, a shopping mall and office complex located near Dundas Square—which locals say is like Times Square, only a lot less impressive—overlooks almost all parts of the Ontario province's capital.

The government of Ontario, which funded my trip and donates to the entire medical industry in the city, has an impressive office on this floor. Its external walls are transparent and fill the conference room with an addictive light and a splendid view. The government representatives take pride in the city's rapid development. "Ten years ago, or a bit more," they explain, "half of these skyscrapers were not even here."

The composition of the local population reflects a spirit of innovation and novelty as well. The terms for receiving citizenship in Canada are considered lenient, and it is believed that half of the 13 million people living in Ontario—3 million of them in Toronto itself—were not born in the country. According to another estimate, as many as 200 languages can be heard on the city's streets, and a short stroll is enough to gain solid and noisy proof that Hebrew is one of them.

The Canadians are polite people, but when discussing their country's immigration policy, it's hard to miss their fondness of liberal multiculturalism and the fact that they loath the values represented by the new administration of their southern neighbor.

In light of all this, it's only natural that in recent years Toronto has become one of the leading cities in innovative medicine, focusing on stem cells. In the three days we toured the city as part of a delegation of journalists from all over the world, we were introduced to a series of companies and studies in the field, from different angles—from lab workers in white coats multiplying cells in Petri dishes, through enthusiastic entrepreneurs trying to market medications using three-dimensional glasses that simulate the cell's movement in the body, to representatives of stem cell banks that did everything apart from trying to convince us to make a deposit on the spot.

This combination is also made possible thanks to the MaRS towers, which was constructed with governmental funding about 15 year ago in a bid to bring together different types of companies in the medical industry under one roof, and later expanded to other industries. In the building's cafeteria, one can find businesspeople and doctors, research students and lawyers, drinking murky North American coffee together and promoting the industry, each in his own way.

The income from the rent paid by the more solid companies in MaRS is channeled towards activity areas for new initiatives and promising startups, as the building is basically a not-for-profit corporation. Nevertheless, the first two months of 2017 saw the finalization of funding deals worth 200 million Canadian dollars for companies operating as part of the corporation, which make it a pretty successful project.
Clinical testing on pigs
The most fascinating research has to do with cardiology. This is the field in which the ability to imagine a new era in the near future appears most palpable. It's difficult to overstate the complexity of the human heart, which is made up of different types of cells and tissues and is activated through a sequence of electrical pulses. Modern medicine has been unsuccessful so far in creating an industrial alternative for the heart, at least not one that allows a quality of life, while transplant surgery suffers from the risks of transplant rejection and a regular donor shortage. These limitations, in addition to the fact that heart diseases are very common and are one of the leading causes of death around the world, make cardiology a fertile ground for an industry of innovative medicine.

The demonstration of the developments in this field is fascinating. In case of a serious heart attack, parts of the heart become inactive and are replaced with scar tissue—in other words, damage and inactive tissue. As a result, an entire part of the heart stops serving its purpose and turns into an unnecessary mass of tissue which only burdens the organ. This leads to a drop in the heart's activity and in its ability to deal with future dangers, and as a result—a rise in the risk of death.

Experiments in inserting stem cells into the damaged layer point to a great potential for an extensive or full recovery of the tissue. The first trials, which were carried out several years ago on lab mice, showed the tissue recovering at a satisfactory pace—weeks to months—basically leading to a recovery of the heart. The whitish, useless tissue is slowly painted in lively shades of red and starts beating again.

Following the success with the mice, trials were also carried out on guinea pigs, and following their success it was decided to move on to clinical testing on pigs, as the size of the pig's heart is similar to the size of the human heart and the heartbeat is almost identical too. The Toronto researchers believe that it will take four or five more years—and a few dozen pigs, unfortunately—before it is possible to move to clinical testing on humans. So even if the entire process is declared a success, it will take quite a few years before such treatments are offered to the public.
The goal: As many lungs as possible
One field in which this vision has already become a reality, at least partially, is lung therapy. Stem cell medicine holds a potential in terms of lungs suitable for transplantation, when it comes to improving of the chances that the new body won't reject the organ. The entire process, however, is complicated. Lung transplantation is only possible when the person who agreed to donate his organs in advance is declared brain dead, which makes it possible to harvest the organs before the entire body collapses, and these are pretty specific cases. In addition, in this group only 20 percent of the donated lungs are eventually transplanted—as the procedure must be quick, and in most cases doctors don't have sufficient information about the lung's condition and the ability to prepare it for a transplantation which won't be rejected.

This is where MaRS come in: A device developed by one of the companies in the building makes it possible to preserve the lung for 21 hours after its removal from the body. This timeframe allows doctors to examine it, implant stem cells in it in order to tackle problems, and even transfer it to distant places. According to the researchers, the transplantation success rate has increased from 20 to 40 percent. The goal is 80 percent, which will significantly increase the number of patients who will get new lungs and a new life.
What does the future hold?
In the stem-cell therapy labs in Toronto, the future is both present and absent. Most researchers refuse to fall into the press' trap and talk about a vision for a better future in which every problem will be treated by injecting stem cells. And although the phrase "growing a heart on a plate" is occasionally heard, they make sure to clarify that such a situation is still far off. Nevertheless, no one will deny that stem-cell therapy is the medicine of the future.
The combination of medical and technological innovations may have brought humanity to the start of a new era, in which it will be possible to cure the body in an immensely more efficient way than in the past. But even these accomplishments highlight how little we know about the human body and how much more we need to learn and work in order to be able to unlock the full potential hiding deep within our cells.
(Translated and edited by Sandy Livak-Furmanski)