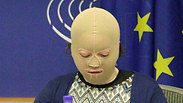 Ayala Shapira
Photo: Benjamin Pataki
Some 15 members the European Parliament, along with 150 guests, attended the inaugural ceremony for the Friends of Judea and Samaria in the European Parliament intergroup in Brussels on Tuesday, where they listened to 13-year-old terror victim Ayala Shapira tell her story.
Shapira, who lives in the Samaria region, was wounded at age 11 when terrorists threw a firebomb at the car she was traveling in.
Ayla Shapira shares her experiences (צילום: בנימין פאטקי)
She explained that her family was attacked by a 16-year-old Palestinian who wanted his family to get benefits from the Palestinian Authority while he was imprisoned for his attack. Shapira asked the parliamentarians to consider that fact when they send aid money to the Palestinians, which they think is used for peaceful purposes.
The intergroup was established on the initiative of the foreign relations group of the Samaria Regional Council, the head of which, Yossi Dagan, was present and spoke at the ceremony.
"It has been a long time now that people talk about us, but not with us," said Dagan. "We came here to change the situation and to promote the rights of the Israeli residents of the West Bank who take nothing for granted anymore; from the right to build and grow crops and have proper emergency healthcare."
West Bank representatives signed a joint declaration with the MEPs promising to cooperate to stop the funding of terrorism and reduce trade barriers facing Jewish pioneers in the West Bank. During the event, the participants toasted with wine produced in the West Bank.
The co-founder of the Group of Friends of Judea and Samaria in the European Parliament, Petr Mach, said "we decided to establish this new group in the European Parliament since we want to inform the public and the members of the parliament of the use of the European taxpayers money to support terrorism in Israel, and to let them know that while Palestinian goods that enter Europe are not taxed, Israeli goods are.
"We want to inform the public and the members of the parliament of this lack of fairness and to work together to remove the taxation of Jewish import and to put an end to funding that support terrorism in Israel and the West Bank, whether directly or indirectly."
In addition, Nati Rom, the founder of Lev HaOlam (a West Bank organization that helped to organize the event), spoke about the organization's efforts in the fight against the boycott movement by distributing products from the West Bank around the world. He emphasized that "the forces driving terror are the same ones that call for boycotting Israel. Communities must work together against this discrimination of Jewish products and preserve the free market."