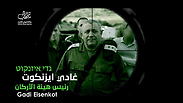 Chief of Staff Gadi Eisenkot lifted from the Hamas video, with a target on his face
Hamas puts out new video threatening to target Israeli security leaders
Hamas continues to promise retribution for the assassination of one of its top officials, Mazan Fukha, believed to have been killed by Israel; Hamas leader Khaled Mashal announces 'We accept the challenge' as the video places targets on the faces of Def. Min. Avigdor Lieberman, IDF Chief of Staff Gadi Eisenkot and more.
After Hamas leader Mazan Fukha was gunned down and killed last Friday in Gaza, Hamas put the blame on Israel, vowing to take revenge. On Wednesday, the terrorist group turned political party put out a video displaying the images of Israel's top security officials and promising personal retribution on each of them.

The video features seven figures, each marked with a target sign on their face: Defense Minister Avigdor Lieberman; IDF Chief of Staff Gadi Eisenkot; Shin Bet Director Nadav Argaman; Mossad Director Yossi Cohen; IDF Deputy Chief of Staff Aviv Kochavi; Minister of Public Security and Strategic Affairs Minister Gilad Erdan; and Oz Brigade Commander David Zini.

The video released by Hamas

After all the faces are shown, the video ends with the sentence "The type of retribution will be in accordance to the act."

"The enemy uprooted one of our heroes in Gaza," Hamas leader Khaled Mashal said on Monday in a public speech he gave in Gaza, following the recent assassinations of Hamas leaders such as Fukha and also senior Hamas official Osama Hamdan.

Referring to Israel, he added that "it settled the score with one of our own who was released from prison. It's an open battle and we, the leaders, accept the challenge. If the enemy changes their tactic, we will accept it and bear the responsibility to protect our brothers and sisters. We are sticking to the fight to free our prisoners (from Israeli prisons—ed), to free Jerusalem and Al-Aqsa." A sign with Khaled's promise—Challenge accepted—was recently put up in the Gazan town of Khan Yunis.



Hamas is currently hard at work to uncover how the assassinations were carried out, supposedly by Israel. As a result, Gaza's district attorney issued an irregular gag order on publishing any and all details from the investigation. A self-imposed closure has been put in place since Sunday, including on Gaza's fishermen. Hamas has only allowed a small number of residents whose family members are held Israeli prisons to visit them, as well as allowing patients and several Palestinian ministers to exit Gaza.

Fukha was sentenced to nine life sentences for sending a terrorist on a suicide mission. The terrorist then detonated a bomb while on an "Egged" bus, killing nine people. He was eventually released eight years later and extradited to Gaza as part of the deal negotiated for the return of kidnapped Israeli soldier Gilad Shalit. Fukha returned to terrorism upon his release.

Shin Bet Director Nadav Argaman warned earlier this month the Knesset's Foreign Affairs and Defense Committee that that the current calm in violence is "deceiving," warning Hamas and other organized terror cells will try to carry out attacks over the Passover holiday.