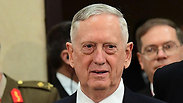 Mattis (File photo)
Photo: AFP
US defense secretary says Iran continues to sponsor terrorism
Speaking at a press conference in London, James Mattis told reporters that the Islamic Republic is still an exporter of terrorism that has not changed its behavior since he warned of the threat it posed in 2012. Mattis also warned of North Korea's reckless behavior.
Iran is continuing to behave as an exporter of terrorism and still sponsors militant activity, US Defense Secretary James Mattis said in London on Friday.

Asked about comments Mattis made in 2012 that the three primary threats the United States faced were "Iran, Iran, Iran," Mattis told reporters that Iran's behavior had not changed in the years since.

"At the time when I spoke about Iran I was a commander of US central command and that (Iran) was the primary exporter of terrorism, frankly, it was the primary state sponsor of terrorism and it continues that kind of behavior today," Mattis said.

At the same press conference, the defense secretary also said North Korea is acting in a reckless manner and must be stopped.

"This is a threat of both rhetoric and growing capability, and we will be working with the international community to address this, we are doing so right now," Mattis said in reply to a question about the potential threat to the United States from ballistic missiles.

"Right now it appears to be going in a very reckless manner in what its conduct is portraying for the future and that's got to be stopped," Mattis said.