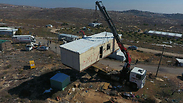 Dismantling Amona
Photo: Amona Headquarters
The White House on Friday cautioned Israel on large-scale settlement building, refraining from criticism of a major project just approved but warning further expansion could block peace efforts, and the EU and UK outright condemned the move.

"While the existence of settlements is not in itself an impediment to peace, further unrestrained settlement activity does not help advance peace," a White House official said.

The Israeli Security Cabinet gave unanimous backing late Thursday to the first officially sanctioned new settlement in the West Bank in more than 20 years.

The White House official said that settlement, a new home for the former residents of the illegal outpost of Amona, was in the pipeline during Barack Obama's administration, and refrained from criticizing the decision.

"We would note that the Israeli prime minister made a commitment to the Amona settlers prior to President Trump laying out his expectations, and has consistently indicated that he intended to move forward with this plan," the official said.

"Going forward… the Israeli government has made clear that Israel's intent is to adopt a policy regarding settlement activity that takes President Trump's concerns into consideration."

British Foreign Secretary Boris Johnson released a statement that reads, "The UK strongly condemns the Israeli government's decision to found a new settlement deep in the West Bank; the first such government decision for over 25 years. I am also disappointed that Israel plans to expropriate additional West Bank territory as 'state land', and press forward with plans for almost 2,000 housing units in spite of significant international concern.

"These announcements are contrary to international law and seriously undermine the prospects of two states for two peoples. As a strong friend of Israel, and one prepared to stand up for Israel when it faces bias and unreasonable criticism, I urge Israel not to take steps such as these, which move us away from our shared goal of peace and security and make it harder to achieve a different relationship between Israel and the Arab world."

Federica Mogherini, the EU's foreign relations chief, was also severe in her own statement, writing that Israel's moves "all threaten to further undermine prospects for a viable two-state solution, which remains the only realistic way to fulfill the aspirations of both sides and achieve just and lasting peace on the basis of a negotiated agreement between both parties.

"The European Union reiterates that all settlements in the occupied Palestinian territory, including East Jerusalem, are illegal under international law, constitute an obstacle to peace and threaten to make a two-state solution impossible. The European Union calls on Israel to end all settlement activity and to dismantle the outposts erected since March 2001 in line with prior obligations.

"The European Union takes note of reports that Israel intends to restrict significantly future settlement construction in view of advancing Israeli-Palestinian peace. Affirmative steps are badly needed in order to reverse the negative trends that are imperilling the two state solution and thereby create a political climate conducive to resuming meaningful and credible negotiations. We expect declarations of intent to be followed by actions on the ground.