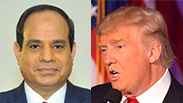 The two presidents
Photos: EPA & AFP
WASHINGTON — President Donald Trump will seek to rebuild the US relationship with Egypt at a Monday meeting with Egyptian President Abdel Fattah al-Sisi focused on security issues and military aid, a senior White House official said on Friday.

"He wants to use President Sisi's visit to reboot the bilateral relationship and build on the strong connection the two presidents established when they first met in New York last September," the official told reporters.

Egypt has long been one of Washington's closest allies in the Middle East, receiving $1.3 billion in US military aid each year.

But the bilateral relationship was strained when former president Barack Obama criticized Sisi for cracking down on the Muslim Brotherhood, Egypt's oldest Islamist group.

Obama temporarily halted aid to the country after then-general al-Sisi in mid-2013 overthrew President Mohamed Mursi after mass protests against his rule. Mursi, a Muslim Brotherhood member, had been elected the previous year.

The Trump administration intends to address human rights concerns in a different fashion, the White House official said.

"Our approach is to handle these types of sensitive issues in a private, more discreet way. We believe it's the most effective way to advance those issues to a favorable outcome," he said.

Trump's relationship with al-Sisi got off to a good start before the US presidential election during a September meeting in New York, when Trump was the Republican candidate, the White House said.

Trump supports al-Sisi's approach to counterterrorism, which includes both military and political efforts, his efforts to reform Egypt's economy—and Sisi's calls for "reform and moderation of Islamic discourse," the official said.

Asked whether the White House would declare the Muslim Brotherhood a terrorist group, the official said Trump was interested in hearing al-Sisi's views during the meeting.

"We, along with a number of countries, have some concerns about various activities that the Muslim Brotherhood has conducted in the region," the official said.

Al-Sisi's visit comes as the Trump administration has proposed massive cuts to US foreign aid, the details of which are still to be determined.

The White House anticipates aid to Egypt will continue but provided no details on Friday.

"We're in the budget process right now and those discussions are ongoing as to how it will be broken out," the official told reporters.