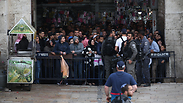 The Old City earlier in the day
Photo: Ohad Zwigenberg
Several hundred mostly Jewish protesters marched in Jerusalem late Saturday to denounce nearly 50 years of what they consider to be Israeli occupation of the Palestinian territories, police said.

The demonstration's organizers and media estimated that some 2,000 people marched from west Jerusalem to near the Old City's Jaffa Gate to a platform bearing both Israeli and Palestinian flags.

The event was organized by the secular left-wing opposition party Meretz and the Arab-dominated Joint List, parliament's third largest bloc with 13 seats, and left-wing NGOs.

Slogans such as "Jews and Arabs are not enemies" and "No to a government of annexation" were among chants heard in Hebrew and Arabic.

The protest came at a time when those who back the creation of a Palestinian state find it harder for their voices to be heard under a government considered to be the most right-wing in Israeli history.

Police said the demonstration passed off peacefully, despite tensions over an incident earlier in the day.

A Palestinian attacker from the West Bank who stabbed and wounded three Israelis was shot dead by police near the Old City's Damascus Gate.

On Wednesday, a Palestinian woman who attacked border guards with scissors was shot dead in the same area.