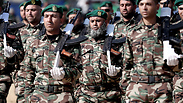 Hamas militants
Photo: EPA
Hamas document: State within 1967 borders without recognizing Israel
A Lebanese news site has revealed a leaked Hamas political document to be presented by Khaled Mashaal. It presents a softened version of the current Hamas charter that makes a point of specifying that the struggle is with Israel and the Zionists, not with Jews as a people.
A Hamas political document leaked on Sunday revealed plans to soften the organization's charter to recognize a Palestinian state on 1967 borders—but still without recognizing Israel.

The document was published by the Lebanese news site Al Mayadeen. It is due to be officially released in the coming days by Hamas leader and politburo chief Khaled Mashaal.

"It is possible to agree to a state within the 1967 borders, but it does not necessarily include recognition of Israel and does not mean that there is a relinquishment of historic Palestine," the new charter states. "The liberation of Palestine is the duty of the Palestinian people, and the resistance to the occupation is a legitimate right, and armed resistance is a strategic choice. Our right to develop and manage the means of resistance is included in the framework of managing the conflict and not at the expense of the principle of resistance."

The document makes a distinction between Israel and Zionism on one side and the Jewish people on the other: "We distinguish between Judaism and Israel and the Zionist program, and our conflict is with the Zionist plan and not with the Jews." In the document Hamas hints at its desire to open up and be accepted in other countries—both Arab and others.

In the document, Hamas recognizes the PLO (of which it is not a member) as a Palestinian national framework, but it also criticizes the Palestinian Authority and states that it must serve the Palestinian people, maintaining their security and rights.
Disengagement from the Muslim Brotherhood
Senior Hamas figure Ahmed Yousef said last March that Hamas's new political plan would include an agreement to establish a Palestinian state within the 1967 borders with Jerusalem as its capital. He left out any recognition of Israel, specifying that all parts of "historic Palestine" be returned and insisting on the right of return.

In addition, Yosef claimed that the plan would emphasize that the Palestinian conflict is not with Judaism in general, but only with the occupation and the Zionist movement alone. The armed struggle, he said, will be conducted only in Palestine itself and not against Jews around the world. He added that Hamas would encourage appeals to international forums on the Palestinian side.

He also addressed what he considered to be Hamas's need to disengage itself from their ties to Islamic movements in the world, including the Muslim Brotherhood, though Yousef did not mention the organization by name.

Hamas's reference to the 1967 borders is not new. In 2014, senior Hamas figure in the West Bank Nayef Rajoub said in an interview with Yedioth Ahronoth that Hamas would accept a political solution within the 1967 borders as long as most Palestinians accepted it and it would not include recognition of Israel. Hamas leader Khaled Mashaal also said that Hamas's struggle was not against the Jews but against the Israeli occupation, as he put it.

(Translated and edited by J. Herzog)