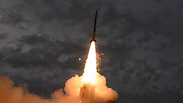 David's Sling carries out successful experiement
Photo: Defense Ministry
Netanyahu inaugurates David's Sling
The PM, Defense Minister Lieberman, IDF Chief of Staff Eisenkot and other officials mark the inclusion of David's Sling defense system into Israel's defense apparatus; 'The ingenuity of our people and the fighting spirit of our soldiers multiply our strength against our enemies,' says Netanyahu. 'Whoever threatens our existence—places himself in existential danger.'
Prime Minister Benjamin Netanyahu attended the ceremony marking the operational integration of the David's Sling air defense system on Sunday at the Hatzor Air Force Base. Also in attendance were Defense Minister Avigdor Lieberman, IDF Chief of Staff Lt. Gen. Gadi Eisenkot, GOC Air Force Maj. Gen. Amir Eshel, US Missile Defense Agency Director Vice Admiral James Syring and Air Defense Commander Brig. Gen. Zvi Haimovitz.

Short-range missiles are intercepted by the Iron Dome defense system, while David's Sling is in charge of medium-range missiles. Te Arrow 3 defense system protects against long-range missiles.

David's Sling defense system carries out successful experiment (צילום: מנהלת "חומה" במשרד הביטחון)

In addition to these newer systems, the Patriot defense batteries, designed to bring down manned and unmanned aerial vehicles, will continue to operate for at least the next five years.

Lieberman said that David's Sling will enable Israel to deal with threats to its security. "When we look at the map of the world, we see a small pin called the State of Israel," said Lieberman to the crowd. "Around us are 58 Muslim countries, with a joint population of 1.6 billion people, ranging from the Middle East to Indonesia and to Kyrgyzstan in Central Asia.

"Every time I ask myself how one can deal with this in addition to $220 billion's worth of arms in 2016 alone, not including Iran, I give myself the same answer: There is only one way—vision, pride and security."

Lieberman noted that the system has no substitute and cannot be bought anywhere else in the world. "It also of course combines all the knowledge, all our intellectual abilities and that of our partners in the United States. Of course, all this must be added to our excellent security personnel, Air Force personnel and security personnel. This combination will allow us to give an answer to all those who try to harm us to destroy us, and unfortunately there are still those in the world. "

Netanyahu, for his part, called the day a holiday for Israel. He praised US support for Israel's security and for the current project."

Speaking to US representative Syring, Netanyahu said that "Today marks an important milestone in our joint development of cutting-edge missile defense technologies. We face, both of us, increasingly sophisticated threats, but we have repeatedly demonstrated that together we can meet these challenges a lot better than any one of us could do so alone.

"We have pioneering technology here, as Israel continues to be a world leader in this field. The ingenuity of our people and the fighting spirit of our soldiers multiply our strength against our enemies and enable us not only to defend the home front but to achieve victory in battle. I ascribe very great importance to our ability to defend the home front. We have proven this in the allocation of resources and in producing interceptors and other means.

"But despite the importance that I attribute to our defensive capabilities, I reiterate: Whoever seeks to hit us—will be hit. Whoever threatens our existence—places himself in existential danger. This approach has ancient sources. Not far from here is the Ella Valley where David defeated Goliath with his sling. King David defended the People of Israel against its enemies 3,000 years ago. He did so with a combination of extraordinary daring and extraordinary ingenuity. We recognize the age-old adage 'Those who dare, win.'

"As an ancient people that treasures life, we continue to march in the path of King David. David's sword in our hand, David's Sling is in our skies and David's shield is on our flag. We will join strength to spirit and we will ensure Israel's victory."

David's Sling was developed by Israeli security forces and the Rafael Advanced Defense System over a decade, as a way to defend against kamikazi drones and heavy rocket fires. Unlike Iron Dome, which is stationary and defends specific areas of Israel, David's Sling is portable, thus providing national coverage.