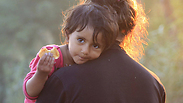 A Syrian child
Photo: Reuters
UN calls on Gulf countries to do more to help Syrian refugees
The United Nations calls on Arab Gulf Cooperation Council countries to aid more with the influx of Syrian refugees. So far, the six-year civil war has resulted in over five million refugees outside Syria and 13.5 million inside Syria. While countries like Kuwait have contributed hundreds of millions of dollars to their welfare, GCC countries have not made such efforts.
A senior United Nations refugee official on Sunday called on Gulf Arab states to give more to help Syrians displaced by six years of civil war, saying she saw little sign that the crisis would end any time soon.

Speaking during a visit to Kuwait to sign a $10 million aid agreement for Syrian refugees in Iraq, Kelly T. Clements, deputy commissioner for the United Nations High Commision for Refugees (UNHCR), also said the UN body lamented the "sad" fact that the number of refugees fleeing Syria's civil war had passed the 5 million mark.

"For us at UNHCR, we don't celebrate these milestones. We in fact try not to bring a lot of attention to it because it is not a good story," Clements told Reuters.

"It means basically that we haven't seen a political solution to make it possible for people to go home safely and in dignity and voluntarily."

Syrians have poured across their borders into Turkey, Lebanon, Jordan and Iraq since anti-government protests in 2011 descended into a full-blown conflict between rebels, Islamist militants, government troops and foreign backers.

Clements said that apart from the 5 million refugees, there were some 13.5 million people who had been displaced inside Syria, some of them moved on twice, three or four times.

"They are not able to support their families. They are in harm's way in terms of mortar shells ... They are not able to put their kids through school. Statistics we have show that a million-and-a-half kids inside Syria are out of school," Clements said.

"So for us, it is a sad time to see the number exceeding 5 million people," she added.

Speaking after she signed the aid agreement with the state-run Kuwait Fund for Arab Economic Development, Clement said that Kuwait was the sixth largest donor to UNHCR, providing some $360 million between 2013 and 2015.

"The other GCC countries have not managed to come anywhere close," she added, referring to the six-nation Gulf Cooperation Council of mostly oil-rich Arab monarchies. The GCC includes Saudi Arabia, Kuwait, the United Arab Emirates, Qatar, Bahrain, and Oman.

"We would like that to change. In fact the resources that we need in order to provide humanitarian support throughout the world, including places like South Sudan and Somalia or Myanmar, Bangladesh, we are only meeting less than half of our budget," she told Reuters.

She said support from countries like Russia and China was still "much more nascent" than that of the Gulf Arab states, but was increasing.

Asked if she saw an end to the flow of refugees from the conflicts in Syria, Iraq and Yemen, Clements said: "Obviously we hope that there would be political solutions.

"I have to say that the outlook doesn't look good," she added.