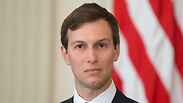 President Donald Trump's son-in-law and senior adviser, Jared Kushner, is visiting Iraq with the chairman of the Joint Chiefs of Staff, an official said Sunday night.

Details about the trip to the Middle East with Gen. Joseph Dunford were not released.

A senior administration official said Kushner wanted to see the situation in Iraq for himself and show support for the Iraqi government. The official wasn't authorized to speak about confidential meetings by name and demanded anonymity.

The Iraq trip was first reported by The New York Times.

Kushner's trip began against a backdrop of an ongoing investigation into civilian deaths in an area of Mosul near the site of an air-strike by US-led coalition forces last month.

His visit marked an early foray for the Trump administration into the situation in Iraq and came just two weeks after Iraqi Prime Minister Haider al-Abadi said he was assured by the president the US will accelerate its support for his country's struggle against ISIS.

Al-Abadi met with Trump and Kushner in Washington last month and said he had the impression that the Trump administration would take a more aggressive approach, although he did not say what that might entail.

Defense Secretary Jim Mattis recently presented Trump with the outlines of a comprehensive approach to defeating ISIS and other extremist groups on a global scale, but specifics have yet to be worked out.

Officials have indicated that the approach is unlikely to depart radically from the Obama administration's strategy, at least with regard to ongoing efforts in Iraq and Syria.

Iraq was part of the Trump administration's original travel ban but was removed from the revised version after a request from the Pentagon and the State Department highlighting Iraq's key role in fighting ISIS.