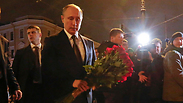 Vladimir Putin
Photo: Reuters
A suspected suicide bomber thought to be responsible for a deadly blast in the St Petersburg metro on Monday had links with radical Islamist groups banned in Russia, a law enforcement source told Interfax news agency.

The source added that remains found at the scene of the blast suggested that a suicide bomber was responsible but that final conclusions would be made after DNA tests had been conducted.

Russian President Vladimir Putin brought flowers to honor the victims of the explosion.

Looking somber, Putin laid a large bunch of red roses outside the subway station where the mangled train arrived moments after an explosive device went off in one of its cars on Monday afternoon.

Authorities say the blast killed 11 people and wounded more than 40 others

Russian state television showed Putin placing the flowers at an improvised memorial near the Technological Institute station entrance. The Russian leader walked away to his car without speaking to the media.

Earlier in the day, Putin said law enforcement agencies and intelligence services were working to "give a full picture of what happened" and promised help for blast victims and their families.