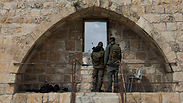 Border Police officers in Jerusalem
Photo: EPA
Two former Border Police officers were indicted Tuesday for assaulting a Palestinian resident of Jerusalem's Old City who they thought was a terrorist.
According to the indictment, Yosef Abadi, 22, from Rishon Lezion, and Oshri Ohayon, 23, from Beit Shemesh, had assaulted a Palestinian with the butt of their rifle and even threatened to kill him, because they thought he was suspected of having carried out a stabbing attack.
The two arrived at the Christian Quarter in the Old City in May 2016 following a report of a stabbing attack. When they noticed a Palestinian walking by, they suspected that he was the assailant, even though he was unarmed.
They approached him, and one of the soldiers struck him with the butt of his rifle, without informing him that he was being arrested or detained and without questioning him.
When the Palestinian asked the policemen what they were doing, they cursed at him and one of them grabbed his neck in a chokehold, pressing him face first into the door of a nearby shop.
At this point, the Border Police officers struck him with their rifles and punched him in the back, head, and waist, and even cocked their weapons, goading another policeman in the area to "Shoot him."
The Palestinian asked them to stop, telling them he had a baby. When he tried to turn around and face them, one of the officers hit him in the testicles. Then the officer said to his companion, "Shoot him, shoot him, here is the knife," and the two continued to beat him. They finally departed, leaving the injured Palestinian behind.
The Palestinian called out, saying he would complain against them in Internal Affairs. At hearing his words, one of the policemen turned, approached him, cocked his weapon and hit him again in the chest.
(Translated and edited by N. Elias)