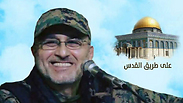 A video of a woman has surfaced on an anonymous YouTube channel claiming not only to be the lover of former Hezbollah military leader Mustafa Badreddine, but also that the terrorist leader was murdered by his own terror organization.

The explosive claims ostensibly lend credibility to the Israeli position that it had no part in the assassination.

However, the revelation also brings up awkward questions for Hezbollah, chief of which being whether or not Badreddine's killing was really an Israeli plot or an act of internal house cleaning.

The video purports to show a statement by a former lover of Badreddine, who was reported to be womanizer.

In the statement, the unidentified woman claimed that Badreddine "knew that Hezbollah leadership wanted to kill him."

The video was uploaded to a YouTube account with the name "Truth." The woman spoke with an electronically-distorted voice and her back to the camera to maintain anonymity.

"Mustafa and I met at a restaurant and it was love at first sight…our relationship over the years was one of love, understanding and total honesty. He would keep my secrets and I would keep his," said the woman.

She went on to say, "Truthfully, I have never met such a brave man who was afraid of nothing. I am sure the knife of treachery killed him."

IDF Chief of Staff Lt. Gen. Gadi Eisenkot has said that an internal organizational conflict led to the assassination, which took place in the Damascus region on May 13, 2016.

Eisenkot cited a report on the incident by the Al Arabiya network claiming that Hezbollah Secretary-General Hassan Nasrallah and Iranian Quds Force commander Maj. Gen. Qasem Soleimani gave the order.
Arab media and the killing
The investigative report by Al Arabiya went on to claim that a missile did not kill Badreddine, but rather close range shooting. It based its claims on independent evidence that cannot be verified such as satellite photos of the assassination location, reports by anti-Hezbollah news sources and recorded telephone conversations between Damascus Airport workers.
In addition to Al Arabiya, online Saudi newspaper Elaph reported that "Hezbollah is chasing after Lebanese Shiites who have serious information on the organization."
According to the article, a well-informed Lebanese source claimed that Al Arabiya's investigation of Bedraddine's death embarrassed Hezbollah and caused "excessive irritation" among senior members of the organization.
Kuwaiti newspaper Al Rai responded to the Al Arabiya report with a mocking tone, saying, "If you're looking for a laugh and you have nothing to do, check out this amusing bit of science fiction, 'How Nasrallah killed Badreddine?'"
Al Rai continued to point the finger at Israel, alleging that a surface-to-surface missile struck the building Hezbollah was using, which was also housing weapons and ammunition for the Syrian army.
The Kuwaiti paper also quoted "informed sources" who claimed that the building was struck shortly after Soleimani left, meaning that Israel waited for him to leave in order to avoid causing a serious international incident by killing him.
(Translated and edited by Fred Goldberg)