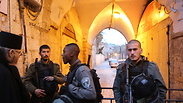 Border Police officers in the old city, following the last week's stabbing (Illustration)
Photo: Alex Kolomoisky
A day after two former Border Police officers were indicted for assaulting a Palestinian resident of Jerusalem who they thought was a terrorist, the victim recounts the attack.
At the time of the incident, which occurred in May of 2016, M was speaking to his wife on the phone when two Border Police officers Yosef Abadi, 22, and Oshri Ohayon, 23, arrived at the Christian Quarter in the Old City following a report of a stabbing attack.
When the two noticed him, they suspected that he was the assailant, even though he was unarmed.
"They saw me speaking to my wife on the phone—they didn't say a word to me. They pinned me to a door and started beating me. The hit my legs, back and head. One of them pinned me to the ground and started shouting 'there's the knife, there's the knife.'"
One of the officers, the indictment read, told the other "he's got a knife, he's got a knife. He put his hand in his pocket." According to M, he carried nothing but his car keys.
M suffered bruising all over his body. According to the indictment, the officers kept beating him with the butt of their rifle without informing him that he was being arrested or detained and without questioning him.
"It was terrifying, they nearly killed me," said 33-year-old M, who at the time had just become a father. "I tried to tell them (to stop), that I had a baby at home, but they didn't even give me a chance to speak."
At this stage, the indictment continues, the officers hit him with their rifles and closed hands in his back, head and hip, and even cocked their weapons and shouted at another officer who arrived at the scene to "shoot him."
"A third officer arrived, and he told them 'he's got nothing, move on," M said. "I yelled at them that I'll sue them, that I'm going to inform Police Internal Affairs about what they did, and suddenly one of them came back, jabbed the butt of his rifle into my chest and left."
"What is this country that we're living in?" M wondered. "I'm 33 and never in my life have I seen something like this. I grew up in the Old City with six Jewish families, very good friends of mine. I live with Jews, work with Jews. We live together, all of us, with all religions; Christians, Muslims and Jews.
"Racists such as these two should not wear uniform. I want to ask them, 'You almost killed me, why? How do you sleep at night after what I've been through?' I want their families to know what they did to me."
The lawyer representing M said that "this is a very serious case where two Border Police officers used unnecessary force with no justification against an innocent and helpless civilian. The officers attacked my client with great cruelty and even threatened to kill him. After all the beating and humiliation, they abandoned him when he was injured and needed medical attention.
"My client begged the officers not to kill him, and it was a miracle that they didn't shoot him. The officers exploited their power and acted in a way that is not in line with the values of Israel's police. All appropriate measures should be taken to fight this phenomenon and protect the innocent civilians against cops who work in contradiction with their orders."
Following the filing of the complaint against the two, the incident was investigated and on Tuesday the officers were indicted for assault and battery.
(Translated & edited by Lior Mor)