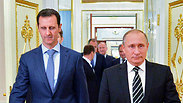 The United Nations Security Council convened on Wednesday to discuss Tuesday's chemical attack in Syria. The representatives of several nations came out strongly against teh attack and Syrian President Bashar al-Assad, who is thought to be behind it, while others—namely Russia—avoided condemnation and called for an international investigation.

Western countries, including the United States, blamed Assad's armed forces for the worst chemical attack in Syria in more than four years, which has been responsible for the deaths of hundreds of people in the town of Khan Sheikhoun in a rebel-held area on Tuesday.

UK Ambassador to the UN speaking to the Security Council

US Ambassador to the UN Nikki Haley strongly came out against the Syrian massacre, holding up photos of some of the victims and asking how long until the UN acts to stop what is happening in Syria.

Russia, however, denied that Assad was to blame for a poison gas attack and said it would continue to back him, opening a rift between the Kremlin and Donald Trump's White House, which initially sought warmer ties.
Israel places the blame solely on Assad
Israeli defense officials also condemned the chemical attack, saying military intelligence believes Assad's forces were behind the suspected chemical attack that killed dozens of civilians.
The officials said Israel believes Assad has tons of chemical weapons currently in his arsenal.
Israel has warned against "game-changing" weapons reaching Hezbollah in Lebanon from Syria, which along with Iran supports the militant group. Last month Israel shot down an anti-aircraft missile fired at its planes as they struck a suspected Hezbollah weapons convoy.
The US and Russia take opposite sides on Syria
Washington said it believed the deaths were caused by sarin nerve gas dropped by Syrian aircrafts. But Moscow offered an alternative explanation that would shield Assad: that the poison gas belonged to rebels and had leaked from an insurgent weapons depot hit by Syrian bombs.

A senior White House official, speaking on condition of anonymity, said the Russian explanation was not credible. "We don't believe it," the official said.

The United States and Russia traded conflicting assertions Wednesday about who launched a chemical weapons attack in Syria that killed 72 people, as world leaders grasped for a response to the latest atrocity in Syria's intractable civil war.

The Trump administration stood by its charge that Assad's forces were responsible. Not so, said Russia, Assad's most powerful ally. Russia's military insisted that the chemicals were dispersed when Syrian warplanes bombed a facility where rebels were building chemical weapons.

At the United Nations, President Donald Trump's envoy threatened unilateral US action if the world body failed to act.

"When the United Nations consistently fails in its duty to act collectively, there are times in the life of states that we are compelled to take our own action," declared Ambassador Nikki Haley. She addressed an emergency meeting of the Security Council, which was weighing a resolution condemning chemical weapons use in Syria. Russia, which has veto power, is opposed.

In Moscow, Russian Foreign Ministry spokeswoman Maria Zakharova focused her attention elsewhere: "It's necessary to demand that the rebels offer full access to study the area and collect necessary information."

A US official said an American review of radar and other assessments showed Syrian aircraft flying in the area at the time of the attack. Russian and coalition aircraft were not there at that time, said the official, who wasn't authorized to discuss intelligence publicly and requested anonymity. Washington hasn't yet concluded what type of chemical was used.

On Tuesday, President Donald Trump split the blame between Syria's embattled leader and former President Barack Obama for the country's worst chemical weapons attack in years.

While calling the attack "reprehensible" and intolerable, Trump said Obama "did nothing" after Assad crossed the former US leader's "red line" in 2013.

"These heinous actions by the Bashar al-Assad regime are a consequence of the past administration's weakness and irresolution," Trump said.

The political tone of Trump's statement took many US officials by surprise. They noted that US presidents have rarely attacked their predecessors so aggressively for events like chemical weapons attacks that Democrats and Republicans both abhor.

Several officials involved in internal administration discussions said Trump's National Security Council had been preparing a different statement, until the president's closest advisers took over the process. The officials weren't authorized to speak publicly on the matter and demanded anonymity.

The president's eldest daughter and top adviser, Ivanka Trump, took a more compassionate tone, tweeting Wednesday, "Heartbroken and outraged by the images coming out of Syria following the atrocious chemical attack yesterday."

At least 72 people died in the town of Khan Sheikhoun. The World Health Organization said victims seemed to show symptoms consistent with nerve agent exposure. Videos from the scene showed volunteer medics using firehoses to wash the chemicals from victims' bodies and lifeless children being piled in heaps.

A flurry of activity across the US government signaled fresh urgency on the Syria crisis. Days earlier, White House and others officials suggested removing Assad from power was no longer a priority. They said the focus was defeating the Islamic State group.

Trump was expected to face questions on the attack Wednesday afternoon during a joint news conference with visiting King Abdullah II of Jordan.

And Secretary of State Rex Tillerson planned to discuss the attack and the Syria crisis next week when he makes his first official trip to Moscow, the State Department said.

For Trump's critics, though, it wasn't enough. Sen. Bob Casey, D-Pa., criticized the White House by noting that Trump hadn't mentioned Russian President Vladimir Putin or Russia's role in the US response. Tillerson accused both Russia and Iran, Syria's other top ally, of sharing moral responsibility in his own statement Tuesday.

"This was a moment the president could have spoken with moral authority and with the beginning of an outline of a strategy," Casey said. "And we don't see it."

Four years ago, after warning Assad that a chemical attack would cross a red line and trigger US action, Obama failed to follow through. Rather than authorizing military action against Assad in response to a sarin gas attack that killed hundreds outside Damascus, Obama opted instead for a Russia-backed agreement to remove Syria's chemical weapons stockpiles.

That was seen internationally as a major blow to US credibility and, for Obama's critics, a prime example of weak leadership. Syrian chemical weapons attacks continued after the deal.

Yet Trump was in agreement with Obama's ultimate decision. Among his tweets on the matter, he urged Obama in all caps, "DO NOT ATTACK SYRIA — IF YOU DO MANY VERY BAD THINGS WILL HAPPEN."
Outrage around the world
The United States, Britain and France have proposed a UN Security Council resolution that would put the blame on Damascus. But the Russian Foreign Ministry called the resolution "unacceptable" and said it was based on "fake information."

Kremlin Spokesman Dmitry Peskov said Russia will present its claim that the rebels for the poisoning to the United Nations.

"Russia and its armed forces will continue their operations to support the anti-terrorist operations of Syria's armed forces to free the country," Peskov told reporters.

Video uploaded to social media showed civilians sprawled on the ground, some in convulsions, others lifeless. Rescue workers hose down the limp bodies of small children, trying to wash away chemicals. People wail and pound on the chests of victims.

The charity Medecins Sans Frontieres said one of its hospitals in Syria had treated patients "with symptoms—dilated pupils, muscle spasms, involuntary defecation—consistent with exposure to neuro-toxic agents such as sarin." The World Health Organization also said the symptoms were consistent with exposure to a nerve agent.

Turkish President Tayyip Erdoğan said the attack had killed more than 100 people. That death toll could not be independently confirmed.

"We're talking about war crimes," French UN Ambassador François Delattre told reporters in New York.

Hasan Haj Ali, commander of the Free Idlib Army rebel group, called the Russian statement blaming the rebels a "lie" and said rebels did not have the capability to produce nerve gas.

"Everyone saw the plane while it was bombing with gas," he said from northwestern Syria. "Likewise, all the civilians in the area know that there are no military positions there, or places for the manufacture (of weapons)."

The incident is the first time Washington has accused Assad of using sarin since 2013, when hundreds of people died in an attack on a Damascus suburb. At that time, Washington said Assad had crossed a "red line" set by then-US president Barack Obama.

Obama threatened an air campaign to topple Assad but called it off at the last minute after the Syrian leader agreed to give up his chemical arsenal under a deal brokered by Moscow, a decision which Trump has long said proved Obama's weakness.
Same Dilemma
The new incident means Trump is faced with same dilemma that faced his predecessor: whether to openly challenge Moscow and risk deep involvement in a Middle East war by seeking to punish Assad for using banned weapons, or compromise and accept the Syrian leader remaining in power at the risk of looking weak.

"It's a test. That's why France repeats the messages, notably to the Americans, to clarify their position," Jean-Marc Ayrault told RTL radio. "I told them that we need clarity. What's your position?"

Trump's response to a diplomatic confrontation with Moscow will be closely watched at home because of accusations by his political opponents that he is too supportive of Russian President Vladimir Putin.

He has previously said the United States and Russia should work more closely in Syria to fight against Islamic State.

US intelligence agencies say Russia intervened in the US presidential election last year through computer hacking to help Trump defeat Hillary Clinton. The FBI and two congressional committees are investigating whether figures from the Trump campaign colluded with Moscow, which the White House denies.

The chemical attack in Idlib province, one of the last major strongholds of rebels that have fought since 2011 to topple Assad, complicates diplomatic efforts to end a war that has killed hundreds of thousands of people and driven half of Syrians from their homes.

Over the past several months Western countries, including the United States, had been quietly dropping their demands that Assad leave power in any deal to end the war, accepting that the rebels no longer had the capability to topple him by force.

The use of banned chemical weapons would make it harder for the international community to sign off on any peace deal that does not remove him.

British Foreign Secretary Boris Johnson, who two months ago shifted his country's policy by saying Assad could be allowed to run for re-election, said on Wednesday that he must go.

"This is a barbaric regime that has made it impossible for us to imagine them continuing to be an authority over the people of Syria after this conflict is over."

Trump described Tuesday's incident as "heinous actions by the Bashar al-Assad regime", but also faulted Obama for having failed to enforce the red line four years ago. Obama's spokesman declined to comment.

The draft UN Security Council statement condemns the attack and demands an investigation. Russia has the power to veto it, which it has done to block all previous resolutions that would harm Assad, most recently in February.

France's foreign minister said the chemical attack showed Assad was testing whether the new US administration would stand by Obama-era demands that he be removed from power.