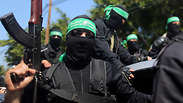 The attorney general in the Gaza Strip announced Wednesday that in the coming days the Hamas administration would execute several Palestinians accused of collaborating with Israel. The number of executions was not reported.
This is probably part of the extensive campaign launched in the Gaza Strip against collaborators with Israel following the assassination of senior Hamas official Mazan Fukha, although this was not stated in the announcement.
About two weeks after the assassination of the senior official, who was one of the pillars of the West Bank headquarters responsible for directing attacks against Israel, Hamas is trying to instill fear of cooperation with Israel. In recent weeks, a Hamas military court sentenced a number of Palestinians to death for this charge.
At the end of last week, the interior ministry in Gaza announced that the security services were facing a major operation against collaborators in the investigation of the assassination of Fukha. Such operations often do not come with prior warnings, and it seems that Hamas was trying to shake things up to identify escape attempts of the assassins, despite the flimsy chance that they could still be found inside the strip, or their collaborators. The terrorist organization apparently has no clue as to the identity of the perpetrators or their collaborators.
One day after the announcement of an operation against the collaborators, the interior ministry issued a statement saying that it was opening a kind of system of pardons for the collaborators with Israel, and called on them to surrender within a week and receive security and legal protection.
It is quite possible that Hamas will place the blame on innocents who will have to confess to things they have not done, only to broadcast victory, even if it is a false one.
The day after Fukha's assassination, Hamas imposed a total siege on the Gaza Strip as part of the investigation, and the siege continues. During the first few days, no one was allowed to leave or enter the Gaza Strip.
Hamas slightly relaxed its criteria in the days that followed, though it had only gained a general profile of those suspected of the assassination or of assisting it: men between the ages of 15-45.
(Translated and edited by N. Elias)