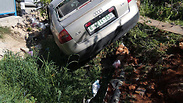 An approximately 20-year-old man was killed and a 19-year-old one was injured in a vehicular attack on Thursday morning at a bus stop outside of Ofra, north of Jerusalem in the West Bank.
Shortly after the attack (הלל מאיר)
Magen David Adom reported they attempted to revive the killed man, but they were unable to do so due to the gravity of his injuries. Along with IDF medics, they provided first aid to the lightly wounded man, who was afterwards taken to a hospital for further treatment.
The terrorist, driving a car with Palestinian license plates, apparently approached the bus stop before accelerating and striking the two young men. He was arrested on the scene.
He was later identified as Malak Hamed, a 21-year-old resident of Silwad whose family is closely tied to Hamas. Hamed had been arrested two years previously for attempting to enter the nearby settlement of Geva Binyamin.
Coordinator of Government Activities in the Territories Maj. Gen. Yoav Mordechai froze all entry permits into Israel for members of Hamed's family later in the day.
Hamas praised the attack, commenting, "This is a response to Israel's crimes against the Palestinian people and a direct continuation of its heroism in the al-Quds Intifada." The organization was using a common term to refer to the escalation in violence that began in October 2015.
(Translated and edited by J. Herzog)