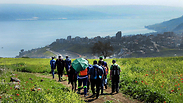 A 70km hiking trail named after the Sanhedrin is currently being constructed in Tiberias which will cross the Galilee and pass between sites that are associated with members of the ancient religious council.

Work on the first section of the trail has already begun with students from the National Religious Education system and volunteers.

The project was initiated by the Israel Antiquities Authority in cooperation with the National Religious Education Administration (Hemed) of the Ministry of Education, financed by the Landmarks Project of the Ministry of Jerusalem and Heritage, and in conjunction with the councils and towns through which the trail runs and environmental organizations.

A visitor's center is also being planned, which will afford the public an opportunity to better understand the project and participate in excavations, while getting to know the city's ancient heritage.

The Sanhedrin trail will be divided into five segments that can be covered during the course of five days of walking. It will be suitable for families and will also include circular routes.

The "smart" trail will communicate with hikers using an innovative, augmented reality-based application that will enable the virtual reconstruction of heritage sites and help recreate the time period.

According to Israel Hasson, director of the Israel Antiquities Authority, "The trail project, which is dedicated to the Sanhedrin sages, will extend over 70 kilometers and will be dedicated to the State of Israel in its seventieth year of independence. Tens of thousands of students and volunteers will bestow the respect due the Sanhedrin sages, and they will provide a spectacular and enjoyable interactive trail for tens of thousands of hikers that will connect the hikers to their past."

According to Yair Amitzur, the IAA antiquities inspector for the Eastern Galilee and one of the initiators of the idea, "People such Rabbi Akiba and Rabbi Yehuda Ha-Nasi, the members of the Sanhedrin who were active here 2,000 years ago, determined to a great extent much of how our lives are run today.

"It is according to these religious laws that we marry or conduct funeral ceremonies, and even administer Jewish law. The establishment of the trail and walking on it will connect those who live here today with the atmosphere and frame of mind of that period."