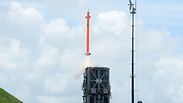 India deal on defense system
Photo: IAI
State-owned Israel Aerospace Industries (IAI) has struck a deal worth almost $2 billion to supply India's army and navy with missile defense systems, the company said on Thursday, describing it as Israel's largest ever defense deal.

Defense deal with India (צילום: התעשייה האווירית)

IAI said in a statement it would supply an advanced air defense system, including medium-range surface-to-air missiles, launchers and communications and control technology, to the Indian army for around $1.6 billion.




An additional naval defense system, including long-range surface-to-air missiles, will be deployed on India's first aircraft carrier, which is still being built, the statement said. While the value of that deal was not disclosed, IAI said the total package was worth nearly $2 billion.

Israel is one of the top three arms suppliers to India, which shares borders with nuclear-armed China and Pakistan.

Between 2008-2015, India was the world's second largest developing-world arms purchaser, according to the US Congress.

Until recently, India kept its defense ties with Israel under wraps, largely out of fear of upsetting Arab countries and its own large Muslim population.

But Indian Prime Minister Narendra Modi, whose nationalist party sees Israel as an ally against Islamist militancy, has openly cultivated warmer ties, and is due to visit Israel later this year.