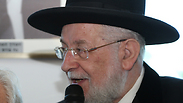 Rabbi Meir Lau
Photo: Abigail Uzi
Former Israeli chief rabbi compares Syria atrocities to Holocaust
Drawing the comparison between Jewish victims and Syrian victims, Rabbi Meir Lau, himself a Holocaust survivor, suggested Israel should intervene to stop the bloodshed to its north: 'This is certainly a 'Shoah' of the Syrian people and it did not start today.'
Israel's former chief rabbi on Thursday compared the atrocities in Syria to the killing of Jews in World War II and suggested that Israel should intervene to stop the bloodshed in the neighboring country.

The comments by Rabbi Israel Meir Lau, who survived the Holocaust as a child, added one of the country's leading voices of morality to a growing chorus of condemnations of the violence in Syria.

This week, dozens of civilians were killed in a chemical attack in Syria that Israeli Defense Minister Avigdor Lieberman said was carried out by Syrian government forces. Lieberman told the Yediot Ahronoth he was "100 percent certain" the attacks were conducted under Syrian President Bashar Assad's "direct and intentional order" and carried out with Syrian planes.

Memories of the Holocaust, in which 6 million Jews were systematically killed by the Nazis and their collaborators, are still fresh in Israel, and the country is home to a large population of aging survivors. Israelis tend to refrain from comparing other conflicts to the Holocaust.

But in a radio interview Thursday, Lau broke that taboo and said Syrians are experiencing their own Holocaust.

"This is certainly a 'Shoah' of the Syrian people and it did not start today, it has been six years since a 'Shoah' landed on them," Lau said, using the Hebrew word for Holocaust, in an interview with Army Radio.

He said he was not familiar with the political ramifications about intervening in Syria, but quoted a passage from the Bible that says not to "stand idly by your brother's blood."

He explained this to mean "not just someone like you that shares your worldview or nationalism." He said it includes all people "created in the image of God."

"Even if we don't need to intervene and maybe are prohibited from intervening," he said, "who will ring the alarm bells? Innocent blood is being spilled. Do something! Stop this killing!" Lau pleaded.

Lau was incarcerated under horrific conditions in the Nazi's Buchenwald concentration camp in Germany as a boy and was among its youngest surviving prisoners when it was liberated by American troops. He went on to become one of Israel's most prominent spiritual leaders. He served as the country's chief rabbi between 1993-2003 and is chairman of the Yad Vashem Council, an advisory board to the country's national Holocaust memorial. He also is now the chief rabbi in Tel Aviv.

Israel has largely stayed out of the fighting in Syria, which has claimed over 400,000 lives. But it has carried out a number of airstrikes on suspected weapons shipments to Hezbollah, a bitter enemy that is fighting alongside Syrian government forces. Israel also has treated several thousand Syrians wounded in fighting and provided humanitarian aid to some Syrian communities near the Israeli frontier in the Golan Heights.

Earlier on Thursday, the head of Israel's Holocaust memorial, Avner Shalev, urged world leaders to end the bloodshed in Syria, saying the international community must "end the human suffering and provide humanitarian aid to the victims."