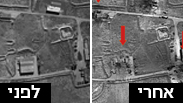 Before and After Satellite photo
Photo: ISI
Before and after: Satellite pictures reveal the damage to the Syrian base
ISI Company posts satellite images taken 10 hours after the US attack on the Syrian Air Force base; the pictures show the abandoned weapons depots, destroyed fuel depots and a completely destroyed SA6 battery; a source in the Syrian army reveals they were warned prior to the attack.
Israeli company ImageSat International released Friday high-resolution satellite images revealing the results of the American attack last night on the Syrian air force base. The pictures provide a before and after to the points where the US Tomahawks fell.

Syrian Chief of Staff visits attacked Air base

A source in the Syrian army revealed to the AFP news agency that the Syrian army had received a warning about the American attack a few hours before it was carried out. "We learned that the Americans were about to attack and we took precautionary measures in several military compounds, including the base that was attacked, and we transferred several aircrafts to other locations."

This source failed to mention who warned the Syrian government.

Thus far, it was only known that the US had informed Russia and some of its allies, including Israel, of its intention to attack.

Meanwhile, Hezbollah responded for the first time to the American attack on Syria, its biggest ally, and said that US President Donald Trump's move was a foolish step that would only lead to great danger and tension in the Middle East, which serves Israel's interests.