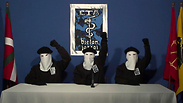 Representatives of the ETA declaring the ceasefire in 2011
Photo: AP
The Basque resistence group ETA (Euskadi Ta Askatasuna—Basque Country and Freedom) has announced it will disarm itself and hand over 12 weapons deposits to French and Spanish authorities. The ETA's nationally motivated attacks have caused the deaths of more than 800 people over the course of more than four decades.

The orchestrated handover in the French city of Bayonne on Saturday will not dissolve the group, which declared a ceasefire in 2011 during a decades-long, violent campaign for an independent state in northern Spain and southwest France.

But it will sever a link with an era of political violence in western Europe, just as nationalism is stirring across the continent.

Scotland and the Spanish region of Catalonia are seeking referendums on independence, while Ireland's Sinn Fein has urged a vote on taking Northern Ireland out of Britain.

Anger among Basques at repression under General Francisco Franco led to the founding of ETA in 1959.

Following Spain's return to democracy in the 1970s, the region gained more autonomy and the group's continued bombings and assassinations caused public support to wane.

ETA says in a letter to the BBC it has handed over its weapons and explosives to go-betweens who will deliver them to authorities.

But it is yet unclear whether the Spanish and French governments back the handover.

Spain's ruling People's Party says the handover is a final surrender after six years of broken promises.

"What remains to be done is to wipe out the hatred that ETA embedded in a large part of Basque society," spokesman Borja Semper said.

A government source says Madrid does not believe the group will hand over all its arms, and Spain's state prosecutor has asked the High Court to examine those surrendered for murder weapons used in unresolved cases.