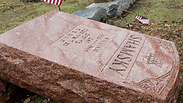 Toppled headstone in St. Louis
Photo: Reuters
Up to 30 headstones were toppled and broken in a Jewish cemetery in Springfield, Pennsylvania, a Philadelphia NBC affiliate reported on Saturday.

Reporter Vince Lattanzio wrote that the Delaware County Police are investigating after the vandalism was reported to them by Mona Ezra, a woman who found the desecrated graves when she came to visit her father's burial place.

NBC further reported that the police have asked the public for assistance if anyone has information, as they are uncertain when the graves were vandalized.

Over the past two months, other Jewish cemeteries have been similarly vandalized in northeastern France; Rochester, New York; Saint Louis, Missouri; and in nearby Philadelphia.