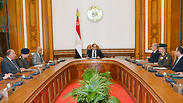 Egypt declares state of emergency
Photo: Reuters
Egypt's President Abdel Fattah el-Sisi has called for a state of emergency for three months after two suicide bombings in Tanta and Alexandria killed scores of Christians in two church attacks on Palm Sunday.

"A series of steps will be taken, most importantly, the announcement of a state of emergency for three months after legal and constitution steps are taken," el-Sisi said in a speech aired on state television.




El-Sisi accused countries he didn't name of fueling instability in Egypt, saying that "Egyptians have foiled plots and efforts by countries and fascist, terrorist organizations that tried to control Egypt."

The army chief-turned-president hasn't detailed the legal measures needed to declare the state of emergency but according to the Egyptian constitution, the parliament majority must vote in favor of the state of emergency.

Video of the bombing

Singing replaced by screams

Egypt declared a state of emergency in the months that followed the military ouster of the Islamist President Mohammed Morsi when his supporters staged mass demonstrations that descended into violence.

Bombs at two Coptic churches in northern Egypt killed more than 40 people and wounded about 100 others on Palm Sunday.




ISIS has officially claimed responsibility, writing in an official statement that it was carried out by two suicide bombers who were strapped with explosive vests.

"The crusaders and their heretic underlings must know that the judgment is severe. God willing, they will pay for their crimes with their children's blood," added ISIS, calling the two suicide bombers "holy martyrs."

Al Arabiya TV's correspondent in Cairo reported that the suicide bombers behind the blasts were identified as Abu Ishaq al-Masri, 26, who is allegedly responsible for targeting the church in Alexandria, and Abu al-Baraa al-Masri, 42, who is allegedly responsible for the blast at the church in Tanta.

Both were born in Egypt and spent the last few years in Syria.






According to recent estimates, there are about 8 million Coptic Christians living in Egypt, less than 10% of Egypt's population of 92 million people.

Sunday's terrorism attacks are an important test of the relationship between the current regime and its Coptic minority, which has seen ups and downs throughout the years.




Four years ago, during the regime of former President Mohamed Morsi and the Society of the Muslim Brothers, Coptic Christians had to face a massive wave of incitement against them.

Morsi was then removed from office in the 2013 Egyptian coup d'état, and now, in clear contradiction, the parliament of Egypt authorized a law to build churches in the country, and the government is apparently giving the Copts complete freedom of religion.