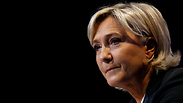 Marine Le Pen
Photo: Reuters
Le Pen denies France responsible for WWII Jewish round-up
Israeli Foreign Ministry slams comments made by the far-right candidate, in which she claimed that France bore no responsibility for Jewish deportations perpetrated by their French collaborators, arguing that true French sentiment was represented in the actions of the French government in exile.
Far-right candidate Marine Le Pen denied that France was responsible for rounding up Jews at the Vel d'Hiv cycling track in Paris during World War II who were then sent to death camps in Nazi Germany.

"I don't think France is responsible for the Vel d'Hiv," she said on Sunday to the LCI television channel. "I think that generally speaking if there are people responsible, it's those who were in power at the time. It's not France."

The National Front leader justified her provocative claims on the grounds that the Free France Provisional Government of the French Republic, which was led by Charles de Gaulle, was exiled in London throughout the duration of the war and worked both to expel the Nazis from the country and dethrone their French collaborators from governmental positions.

The true French sentiment, she argued, were personified by De Gaulle's efforts and anti-Nazi stance, and therefore absolved the country from responsibility for Nazi atrocities.

The Israeli Foreign Ministry condemned her remarks, insisting that France did bear responsibility for the fate of its Jewish subjects.

"We condemn the statements made by Marine Le Pen that France was not responsible for the expulsion of Jews from its territory in the Holocaust. This declaration is contrary to historical truth, as was demonstrated by French presidents who recognized the state responsibility for the fate of French Jews who perished in the Holocaust," the statement read.

"A recognition that underlies the commemoration of the expulsion of Jews from France and the study of the Holocaust in the education system which is an important component in the struggle against anti-Semitism that unfortunately rears its head even today.

Former President Jacques Chirac and current leader Francois Hollande have, in the past, both apologized for the role French police played in the round-up which was ordered by Nazi officers in 1942.

It is not the first time Le Pen has sparked controversy with her comments and planned policies. In February, she announced that her immigration plan would forbid French citizens from holding additional, non-European citizenships, which would require that French Jews who possess Israeli citizenship forfeit one of them.