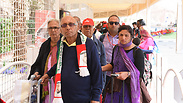 Israelis refused crossing into Sinai
Photo: Chaim David
In an unprecedented move, Israel closed its Taba border crossing with following a warning by its anti-terrorism office of an "imminent" terrorist attack there. The thousands of Israelis who had planned to vacation in Sinai during Passover will have to change their plans.

A few hours after the decision had been taken, a Code Red alert was sounded in southern Israel as a rocket was fired from the Sinai Peninsula into Israel, damaging a greenhouse.

Intelligence Minister Yisrael Katz said in a statement Monday there was intel regarding a potential "terror attack" against tourists in the Sinai peninsula. The crossing is open for those wanting to return from Egypt. He said that his decision was influenced by the severity and seriousness of the threat.




In a statement issued Friday morning, the Counter-Terrorism Bureau said that Katz had taken the decision in consultation with Minister of Defense Avigdor Lieberman. Taking immediate effect, the crossing was shut down for those travelling to the Sinai Peninsula until the end of Passover on April 18, providing that the security situation improves.

Despite the crossing's closure, however, Israelis currently in Egypt will be permitted to return home via Taba.

Southern Sinai, with its pristine beaches and Red Sea coral reefs, has traditionally been a popular Israeli tourist destination—especially for secular Israelis during the Passover holiday. But Israel has urged its citizens to avoid the area in recent years because of Islamic militant activity.

The Counter-Terrorism Bureau estimates that hundreds of Israelis are currently in Sinai, and that many more thousands will arrive before the Passover holiday. For the High Holy Days last October, between 17,000 and 20,000 Israeli tourists arrived in Sinai.

A pair of church bombings during Palm Sunday ceremonies killed more than 40 people Sunday; shortly after those attacks, Israeli urged its citizens in Sinai to return home.

Later that day, Egypt's President Abdel Fattah el-Sisi called for a three-month state of emergency in his country, which was approved by the government on Monday.