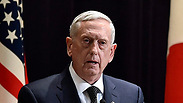 US Secretary of Defense James Mattis announced that the US cruise missile attack in Syria caused significant damage to the air capabilities of Bashar Assad's armed forces.

According to Mattis, the strike "resulted in the damage or destruction of fuel and ammunition sites, air defense capabilities and 20% of Syria's operational aircraft."

Additionally, the Shayrat airbase itself was rendered effectively useless by the strike. Mattis elaborated, saying, "The Syrian government has lost the ability to refuel or rearm aircraft at Shayrat airfield and at this point, use of the runway is of idle military interest."

Mattis concluded his remarks by noting that Assad and Syria would be "ill-advised to ever again use chemical weapons."

With the ripples of the attack still being felt around the international community, the White House doubled down on a change of policy vis-à-vis Syria, by announcing that the possibility of further strikes remains viable.

"The sight of people being gassed and blown away by barrel bombs ensures that if we see this kind of action again, we hold open the possibility of future action," said White House spokesman Sean Spicer.

The more aggressive posture of the White House comes at a time when Western leaders such as British Prime Minister Theresa May, are attempting to persuade Russia to sever ties with the Assad regime.

US Secretary of State Rex Tillerson will visit Moscow this week in an attempt to restore relations and dialogue between the two powers.

"I hope we can have a constructive dialogue with the Russian government, with Foreign Minister Sergei Lavrov, and make Russia support a process that will lead to a stable Syria," said Tillerson.