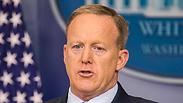 Spicer apparently misspeaking
Photo: EPA
White House Press Secretary Sean Spicer compared Nazi dictator Adolf Hitler favorably to Syrian President Bashar al-Assad in a briefing Tuesday, saying that Hitler did not "sink to the level of using chemical weapons" as Assad did.

The Nazis infamously used gas chambers in concentration camps in their attempt to commit genocide against the Jewish people and other targeted minority groups.

The president's spokesman was commenting on the apparent sarin-gas attack in Syria last week that killed scores of civilians and that has been largely attributed to the Assad regime.

Online backlash was immediate, which ABC News' Cecila Vega noted when she asked Spicer in that same briefing if he wanted the opportunity to clarify his comments. He seemed to do quite the opposite, responding, "I think when you come to sarin gas, there was no—he (Hitler) was not using the gas on his own people the same way that Assad is doing."

"He brought them into the Holocaust Center," Spicer continued after stammering somewhat on his words and thanking Vega for her question.

One was left to presume that Spicer had intended to say "extermination camps" rather than "Holocaust Center."

He continued, "But I'm saying that in the way that Assad used them where he went in towns, dropped them down, into the middle of towns—it was brought—so the use of it—I appreciate the clarification. That was not the intent."

After the briefing, Spicer emailed a statement to reporters: "In no way was I trying to lessen the horrendous nature of the Holocaust. I was trying to draw a distinction of the tactic of using airplanes to drop chemical weapons on population centers. Any attack on innocent people is reprehensible and inexcusable."

The press secretary came the day after he had attended the White House Seder, a tradition begun by former President Barack Obama. Current President Donald Trump

did not attend the dinner.