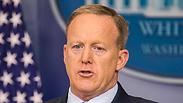 Israel's Yad Vashem Holocaust Memorial condemned US White House spokesman Sean Spicer's Holocaust comments on Wednesday and urged him to visit the museum's website to learn about World War Two history and Hitler's extermination camps.

In a statement from the director of Yad Vashem's libraries, Dr. Robert Rozett, the memorial shared its "deep concern about the inaccurate and insensitive use of terms related to the Holocaust by the White House Press Secretary."

Spicer triggered an uproar on Tuesday by saying Adolf Hitler did not use chemical weapons. He apologized after his comments drew immediate criticism on social media and elsewhere for overlooking the fact that millions of Jews were killed in Nazi gas chambers. A senior member of Israel's government, Transportation Minister Yisrael Katz, welcomed Spicer's apology on Wednesday.



Rozett blamed Spicer's comments on ignorance, stating, "His statements imply a profound lack of knowledge of the events of World War Two, including the Holocaust."

Spicer made the assertion at a daily news briefing, during a discussion about the April 4 chemical weapons attack in Syria that killed 87 people. Washington has blamed the attack on the government of Syrian President Bashar al-Assad.

The Nazis murdered six million Jews during World War Two. Many Jews as well as others were killed in gas chambers in European concentration camps.