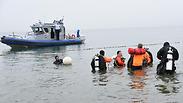 The search in the Kinneret
Photo: Avihu Shapira
Nearly 12 hours have passed since three young men were swept away in the Kinneret Wednesday morning due to high currents.
Police announced Wednesday evening that the searches for the three missing young men will continue into the night.
"The marine patrol will continue searching throughout the night. Additionally, patrols will continue along the coast," said police in a statement.
Authorities also stated that divers, helicopters, Kinneret Authority boats and local fishing vessels have also joined in the search.
The three, who came during the busy travel period of Passover, were on rafts in the Kinneret, before strong winds blew them further out into the sea at around 11:00am. Rescue services fear for their lives with each passing hour.
One of them, 21, from the center of the country, was with his girlfriend on an inflatable raft. The two capsized, and the young woman was saved by civilians on a jet ski. At the same time, two other young men were on an inflatable raft that had apparently exploded. A 17-year-old from the center of the country was rescued by the same jet ski that rescued the young woman, but his friend, also 17, was missing. In addition, several youths who also floated on an inflatable raft were swept away by the winds. Two young men rescued themselves, but searches for a 19-year-old from the north continue.
Over the course of the morning, marine patrol police officers rescued more than 80 people who entered the waters of the Kinneret on inflatable rafts and were either swept away by the currents or overturned by the winds. A lifeguard on one of the shores said that he pulled five people out of the water himself. "The second lifeguard also saved five people. People aren't taking into account the eastern winds and are swept away."
"We constantly warn but nobody listens," accused Jacob the lifeguard. "I saw people being swept away, I saw them raising their hands in the air, calling for help. The second lifeguard pleaded with the jet ski to pull them out but by the time he reached them, they couldn't find the other man because he was swept away after they split up."
According to Meteo-Tech weatherman Nahum Malik, a wind of 40 kph had been blowing in the area with gusts of up to 60 kph, causing the sweeping currents. The police stressed that entering the water on rubber boats and inflatable rafts could endanger lives. "We call upon the vacationers on the shores of the Kinneret to obey the instructions of the rescue services and to refrain from entering the water on beaches without lifeguards," they said.