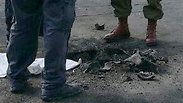 Rocket site
Photo: Roi Idan
A delegation of German trauma specialists visited the town of Sderot, located just two kilometers from the Gaza Strip, to learn about local approaches to treating psychological trauma.

The city is a natural destination for trauma research.

Since 2001, Palestinians in nearby Gaza have fired more than 12,000 rockets at the city from the Strip, and the Code Red air raid siren has formed the soundtrack of growing up for a generation of Israelis.

Upon hearing the siren, locals have just 15 seconds to take cover; to deal with the threat, the town is dotted with makeshift bomb shelters, and some playgrounds have been covered with rocket-resistant roofs.

Predictably, psychologists, religious authorities, teachers and counselors say the constant threat of attack has left an indelible mark on local residents. Bed wetting, depression, stress disorders and divorce rates have skyrocketed in the city since the turn of the century.

Dr. Adrianna Katz, Executive Director of the Sderot Community Center for Mental Health, said in 2010 that "it is a mistake to talk about 'post' trauma conditions in Sderot, due to the ever-present possibility of an attack. People here are living in a constant state of panic," said Katz.

As a result, Sderot has become an unhappy laboratory for the development of trauma therapies.

The current visit, hosted by the Israeli Trauma Coalition, centered on a tour of the local Resilience Center, where the visitors heard about life in the constant shadow of terrorism and about the government's model of bolstering communities, both during normal times and during emergencies.

In addition, the group visited nearby Kibbutz Nir Am for a lookout into the Gaza Strip and visited a Resilience Center for the Bedouin community in the city of Rahat, where they learned about the challenges of providing psycho-social therapy to the Bedouin population of the Negev.

Talia Levanon, director general of the Israel Trauma Coalition, said, "The delegation came to learn from Israel Trauma Coalition activities in the areas that we work. It is an ongoing process of learning, and we hosted a German-Israeli workshop aimed at administering, developing and preventing therapy teams from burning themselves out."

The delegation also met with Corinne Zeevi-Weil, an expert in child and adult psychology at Hadassah University Medical Center in Jerusalem, and visited the Amcha center in Haifa they met with Holocaust survivors and heard talks by staff members about therapy and support.

The Israel Trauma Coalition was founded in February 2001 at the behest of the Jewish Federation of New York and serves as the executive arm for government ministries that deal with mental health issues.

The coalition includes hundreds of professionals and thousands of volunteers around the country operating regional preparedness centers for emergency situations. Treatment focuses civil preparedness for emergency situations, therapy training, and preparing the education system for emergency situations.

Article reprinted with permission from TPS.