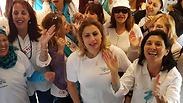 Peace Train
Photo: Itay Blumenthal
'Peace train': 'Only women will lead to real change'
Members of the Women Make Peace movement, dressed in white clothes, took the train from Tel Aviv to Beit She'an today, demanding the commencement of a diplomatic process; 'We want peace regardless of our political outlook, we will support any leader that leads to peace.'
Some 1,000 women dressed in white from the Women Make Peace movement took part in a symbolic train ride from Tel Aviv to Beit She'an Thursday morning, demanding that the peace process be moved forward.
The women boarded the train from a number of stations along the route. The main event took place in Beit She'an, where MK Yehuda Glick, Michal Fruman, who was injured in a stabbing attack in Tekoa and other public figures participated. "Only the talent and perseverance of women can lead to real change," determined one of the few men on the train who decided to join his wife on the trip.
The women came from all over the country and from all sectors and called on the decision-makers to advance the political process. Manar Abu Dahl of Lod came to visit with her younger brothers. "This journey for me eventually leads to security, tranquility and finally to a political agreement," she said. "Ever since I was little, I believed in peace and coexistence between Jews and Arabs, and if we are all together there will be no more wars ... It was important for me to come with my family because I was always brought up to live peacefully with our Jewish neighbors, and I would like to pass that message on to the next generations as well."
Yahaloma Zchut, the director of the urban resilience project in Ofakim and a social activist, noted that the fact that she is a Likudnik is not related to her being a peace activist. "We want peace regardless of our political outlook," she said. "As a non-political movement, we would support any leader who leads to peace, and only when people feel that they are partners, can they lead to change."
Yoel Adami of Ganei Yehuda, was one of the few men who boarded the train to accompany his wife. "I have been experiencing the movement through my wife from the moment it was founded, and there are different energies here just because they are women. Their abilities and talent give them a feeling of optimism and their persistence is worthy of admiration and appreciation."
Daniella Hermon, a Dimona resident and social activist, summed up the women's secret about the train. "Women speak with emotion, because only they have the sense of motherhood, so we all speak the same language," she said. "Only women will succeed, some of the biggest revolutions in history have been led by women."
(Translated and edited by N. Elias)