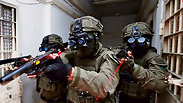 Metzada unit
Photo: Gadi Kabalo
Watch: Metzada unit in action
Using trained canines and non-lethal weapons, rappelling from roofs and smashing through windows, neutralizing targets while keeping hostages alive—these are just some of the things that the Israel Prison Service hostage rescue and special operations unit trains on daily; If the time comes, they'll be prepared.
An new action-packed video has been released showing the Metzada unit, the Israel Prison Service (IPS) hostage rescue and special operations unit, conducting several exercises simulating an array of scenarios involving bringing security prisoners under control.
In one such scenario, a packed bus carrying dozens of security prisoners diverts from its set path and begins driving on a side road, alerting the unit to the fact that something out of the ordinary has taken place.
Metzada special operations unit
Large security forces are called to the scene before bringing the armored bus to a forced stop—which is sealed shut like a mobile safe—and surrounding it on a dirt tack. The whole area is closed for traffic, with helicopters hovering above.
As the scene plays out, the prisoners who have barricaded themselves inside the vehicle refuse to surrender, threatening to kill the IPS guards who transported them if the forces fail to comply with their demand that they be permitted to pass.


This is where the Metzada unit comes in. Being one of the five most elite units in the IDF, they specialize in working with non-lethal weapons and train daily to deal specifically with these types of scenarios.
(Translated & edited by Lior Mor)