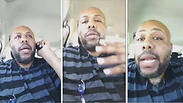 Steve Stephens
Photo: Facebook
Facebook is now saying that a man suspected of fatally shooting another man in Cleveland posted a video of the killing on Facebook, but did not broadcast it live.

In a statement late Sunday night, Facebook said suspect 37-year-old Steve Stephens did go live at one point during the day, but not during the killing.

Police earlier Sunday had said that Stephens had broadcast it on Facebook Live.

Stephens is accused of killing 74-year-old Robert Godwin Sr. Late Sunday, police issued an aggravated murder warrant for Stephens. In a statement, they said he may have traveled out of state.

In a separate video, Stephens said he also killed more than a dozen other people. Police have not verified that information.

Officials say Stephens worked for a behavioral health agency Beech Brook. Agency Spokeswoman Nancy Kortemeyer told WOIO-TV that the agency is "shocked and horrified."