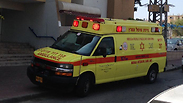 The scene of the crime
Photo: MADA Spokesperson's Office
An investigation into an Ashkelon case of murder and suicide is yet unclear on the motive or events leading up to the murder. At present, it is only known that Tribus Valdalan, 41, left his home Saturday morning with his ten-year-old son, dropped him off at his ex-wife's in Kiryat Gat. Upon returning home, he strangled his 30-year-old girlfriend to death. He then jumped to his death from a window on the eighth floor of his apartment.

Valdalan left a suicide letter behind, in which he claimed that he had suffered difficulties and therefore decided to end his life. The letter does not mention the reasoning that led him to murder his partner, but he specifically stated that he did, in fact, murder her. He is believed to have strangled her to death using a mobile phone charger. The name of his murdered partner has not yet been made public.

According to the police investigation, after the suspect dropped his son off at his ex-wife's house and was already on his way back to Ashkelon, he was involved in a car accident, after which he left his car at the scene of the accident and continued home.

The bodies of the two were transferred to the Abu Kabir Forensic Institute to further examine the circumstances of their deaths.

Chief Superintendent Moshe Levy, commander of the Ashkelon station, said: "At 12:25 we received a report about a person who jumped from the eighth floor. We found a 41-year-old man unconscious. An investigation team broke into his apartment and found a woman, his partner, already lifeless." The couple had no mutual children and had not previously filed police complaints against one another.