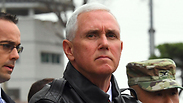 US Vice President Mike Pence reiterated on Tuesday that all options are on the table in dealing with North Korea, but that President Donald Trump is determined to work with Japan, China and South Korea to find a peaceful solution.

"We appreciate the challenging time in which the people of Japan live with increasing provocation across the Sea of Japan," Pence said in Tokyo before a lunch with Prime Minister Shinzo Abe. "We are with you 100 percent."

Abe said he supported Trump's stance that strategic patience with North Korea had run out, and that all options were on the table.

North Korea has conducted a series of missile launches and nuclear tests in defiance of UN sanctions, including a failed missile launch on Sunday.

Chinese Foreign Minister Wang Yi has made a new appeal for calm on the Korean Peninsula and says he believes the United States would prefer a diplomatic resolution to the standoff.

Amid a mounting war of words between Washington and Pyongyang, Wang told reporters Tuesday that although US officials have made clear that a military strike remains an option, he believes that Washington would still prefer to de-escalate tensions through multi-sided talks.